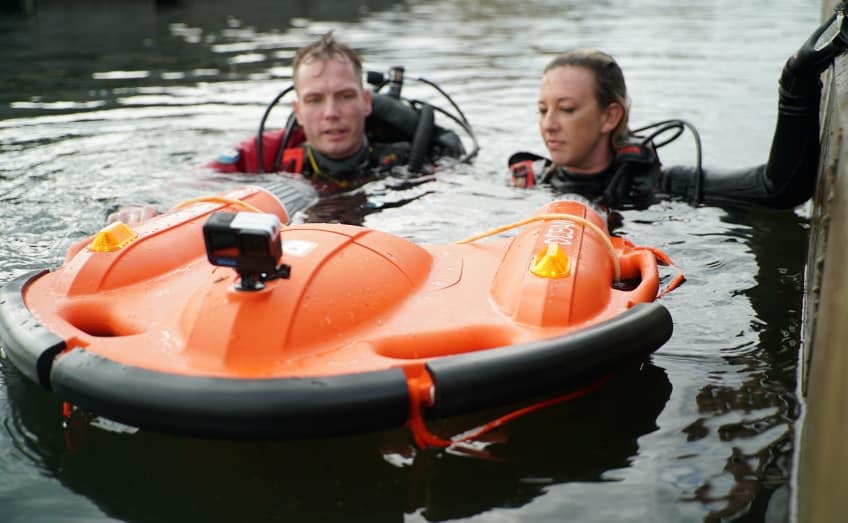 OceanAlpha has confirmed that its Dolphin 1 rescue USV (unmanned surface vessel) has been demonstrated at the Unmanned Tactical Application Conference (UTAC) 2021 in a real-time disaster training scenario that involved water rescue during severe flooding.
Held in Georgia, USA, UTAC 2021 was attended by hundreds of law enforcement and emergency management personnel, and featured a variety of realistic scenarios that showcased the benefits of unmanned systems technology. These scenarios included an active shooter situation, and tracking down a wanted suspect, as well as natural disasters.
The water rescue scenario took place on a street that was submerged by 2 meters of water, with people who had been able to evacuate in time gathering on rooftops. Some of these people fell into the water, while others were trapped underwater with unknown conditions.
Multiple unmanned vehicles were dispatched at the same time for maximum efficiency. A drone airdropped lifejackets and medical kits to the people on the roof to protect them further. A Dolphin 1 was dispatched from dry land by a responder to pick up a potential drowning victim. After confirming that the victim had taken hold of the USV's nonslip handrails, the responder activated the robotic vehicle remotely to bring the victim back to dry land. Additionally, an ROV (remotely operated vehicle) equipped with an HD camera and sonar was also launched into the water, providing vital decision-making data to enable divers to perform a rapid point-to-point rescue.
Ran Zhang, general manager of OceanAlpha, commented: "The application of robots and unmanned technology can minimize the security threats faced by emergency personnel. We have invested a lot to make the Dolphin 1 simple and strong enough. Users can learn to use it within minutes."
Ryan English, CEO of FLYMOTION, who hosted UTAC 2021, noted: "Technology is key. The ability to put something that is a piece of technology where you would normally put a human is life-saving. These departments will go home, and they will be more proficient in the use of this technology, ultimately keeping their communities and keeping their colleagues safe."