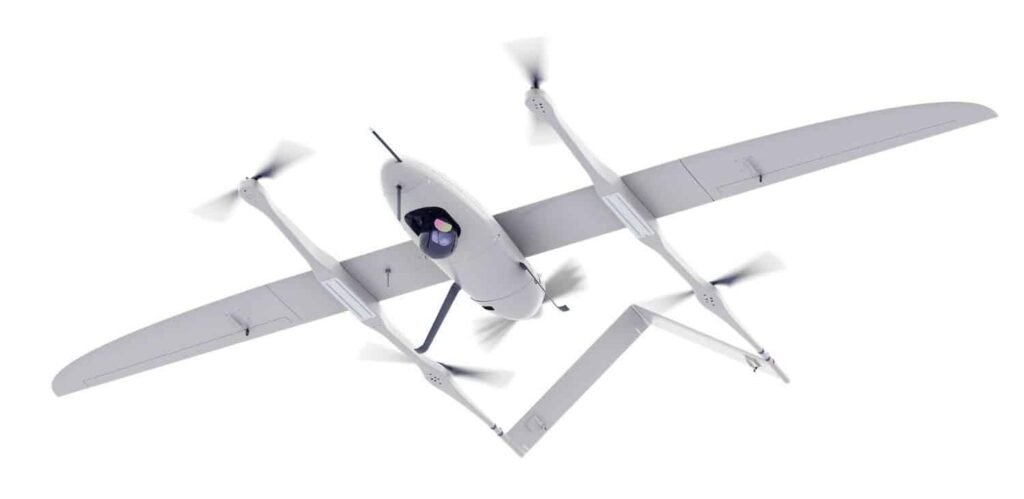 Edge Autonomy has announced the launch of the Penguin B VTOL, a long-endurance drone for commercial, military and academic applications that combines the large payload capacity, endurance, and power of the original Penguin B UAV (unmanned aerial vehicle) with the versatility and operational practicality of a VTOL aircraft.
The aircraft wingspan has been increased to 3.9 m (12.8 ft), enhancing flight endurance to over 8 hours and supporting a combined payload and fuel capacity of 11.7 kg (25.8 lbs). The composite design of the wing has also been optimized to maintain structural rigidity while remaining lightweight. The aircraft is equipped with ultralight carbon-fiber landing gear struts to maximize flight endurance while producing minimal drag. Routine takeoff and landing can be performed in 30 knot (15 m/s) winds and operations can be conducted in extreme temperatures ranging from -20°C to +50°C (-4°F to 122 °F).
The Penguin B VTOL is an ideal platform for system integrators and is available with a wide range of factory integrated options. Standard options include a highly reliable EFI engine, an onboard electrical generator, a portable ground control station, and long-range radio datalinks and tracking antenna systems. An upgrade kit is also available for original Penguin B users to convert their aircraft to VTOL.
A variety of high-performance gyro-stabilized EO/IR payloads can be fitted onto the Penguin B VTOL, the most advanced of which is the 7-inch Epsilon 180 gimbal, with 40 microradian jitter, a powerful MWIR with continuous optical zoom and cooling capabilities, and a long-range 4K daylight camera. Smaller payloads such as the Epsilon 140 series, can be factory installed inside the aircraft. The aircraft is also available without a payload, allowing integrators to combine various custom payloads via an interchangeable payload tray.
The aircraft's batteries are custom designed to be as small as possible with an excellent power-to-weight ratio, and replacement can be performed in under 2 minutes, minimizing delay between flights. An industrial floating connector design automatically joins electrical connectors when the aircraft parts are assembled. Aircraft assembly only takes 15 minutes and can be performed by a single technician.
Watch to learn more: