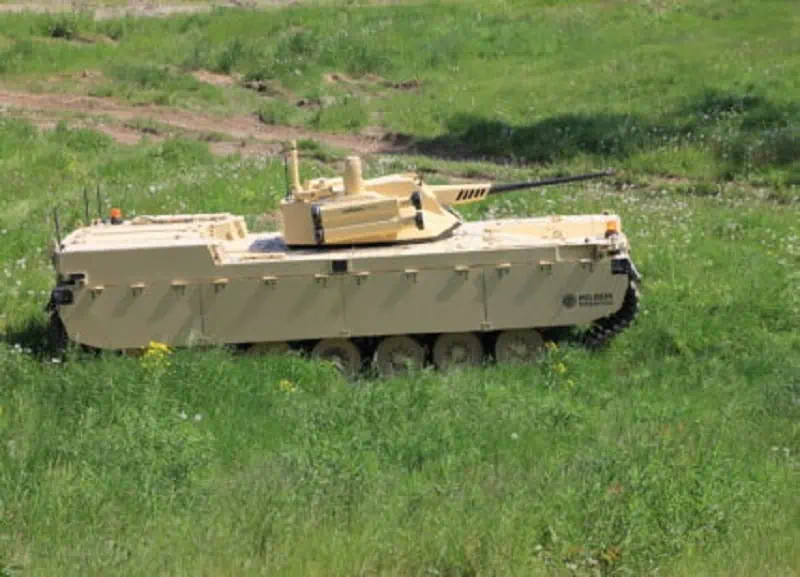 Milrem Robotics has developed the Type-X UGV (unmanned ground vehicle), the company's entry for the U.S. Army's RCV-M (Robotic Combat Vehicle-Medium) program. The Type-X is designed to provide equal or overmatching firepower and tactical usage to a unit equipped with IFVs (infantry fighting vehicles), and allows mechanized units to breach enemy defensive positions with minimal risk to troops.
The UGV features AI-guided intelligent capabilities including follow-me modes, waypoint navigation, and obstacle detection. An Indirect Drive feature allows remote-controlled operations at higher speeds. The Type-X can be fitted with a cannon up to 50 mm, anti-tank missiles, as well as a tethered drone for continuous situational awareness.
The Type-X has been designed with intelligent predictive maintenance combined with a health and usage monitoring system and line replacement unit principles, in order to ensure a low through-lifecycle cost and logistic footprint. The vehicle's hybrid powertrain and rubber tracks will also significantly contribute to reduced lifecycle costs.
The Type-X RCV was developed with the benefit of Milrem's experience gained through developing its flagship THeMIS UGV, which is designed to support dismounted troops. THeMIS has already been acquired by eleven countries, including seven members of NATO.
Sverker Svärdby, Head of Systems Engineering at Milrem Robotics, commented: "The Type-X is designed to be upgradable to meet the needs and requirements of various armed forces. That is one of its most unique features. Thanks to this, the Type-X will fit nicely into to RCV-M program and will be able to support amphibious missions."