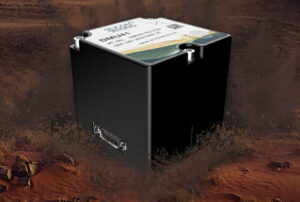 Silicon Sensing Systems has launched a new ITAR-free all-silicon MEMS IMU (inertial measurement unit) that features nine degrees of freedom and a significantly reduced SWaP (size, weight and power) footprint. The DMU41 measures 50x50x50 mm and weighs just 200g, and also has a power consumption 50% lower than its predecessor.
The DMU41 provides ultra-precise motion sensing for far smaller and more restricted UAVs (unmanned aerial vehicles), drones and robotic platforms, delivering performance that competes directly with heavier, larger and more costly fibre optic gyro (FOG)-based units.
The new IMU combines excellent angle random walk and bias stability with exceptional low noise characteristics. Each unit contains three inductive and three piezoelectric resonating ring gyroscopes and six capacitive accelerometers, all designed and manufactured by Silicon Sensing, along with 3 magnetometers.
All of the DMU41's inertial sensor data is blended to give optimal motion sensing information, with variable output rates of up to 2kHz. Outputs can combine angular rate, acceleration, delta angle and delta velocity, temperature and built-in test results. Each unit is calibrated over the full operational temperature range to guarantee sustained, reliable performance.
Steve Capers, General Manager of Silicon Sensing Systems, commented: "We have developed DMU41 in close consultation with customers across many sectors, many of whom have expressed a need for a highly compact, 'tactical grade' IMU that is not ITAR (International Traffic in Arms Regulations) controlled."
"We expect our new IMU to find a home operating in the most severe situations – environments such as aerospace, marine and space – where consistent, ultra-precise motion sensing is critical but available space and power is limited."
Watch a video about the new DMU41 IMU below: