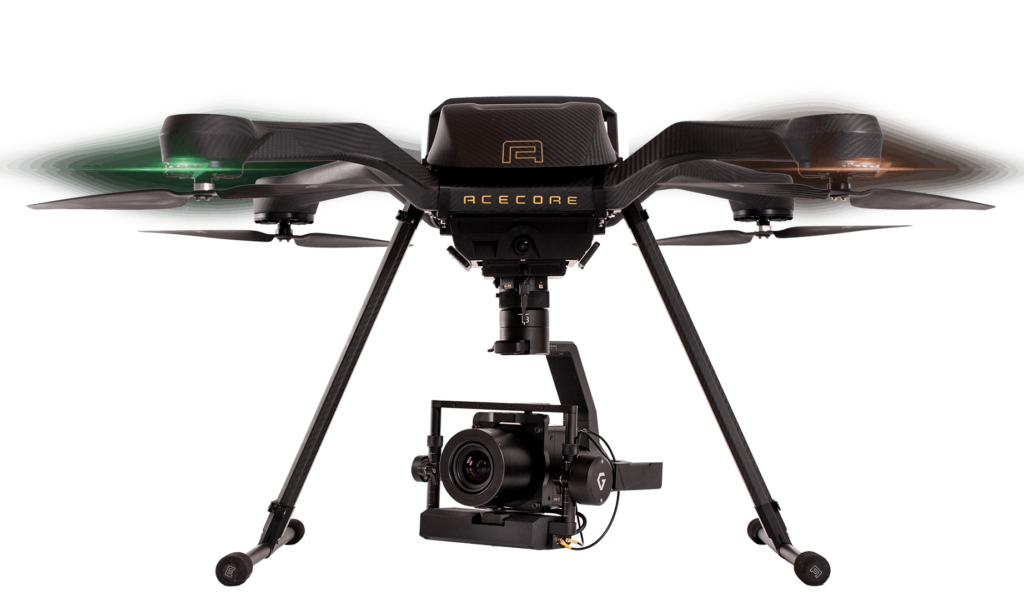 Acecore's Zoe quadcopter platform has been used by aerial data solutions provider Airobot as the base for their new Zmapper unmanned aerial vehicle (UAV), a 4G-enabled BVLOS (beyond visual line of sight)-capable autonomous drone that can collect mapping data with sub 1cm/ px accuracy. Airobot is the first company to release a fully operational product based on Acecore's Developer Kit, which allows providers that are not experienced with building their own drones from the ground up to take advantage of a robust and proven OEM solution.
Airobot needed a robust drone platform to integrate their electronics and software into that could also provide all-weather capability with resistance to rain, wind and dust. The Acecore Zoe is rated to operate in up to 9mm/h downfall and gusts of wind at speeds of more than 17 m/s.
Airobot's solution also utilized their AiroCore carrier board, which houses the orange Cube flight controller, extra realtime CPUs for flight control, payload management computer, professional RTK receiver and redundant power supply to enable safe autonomous BVLOS flights. Thanks to the amount of interior space available on the Acecore Zoe developers kit, this piece of critical electronics is temperature-controlled and protected from the elements inside the drone's custom 3D printed undercarriage.
Jan Leyssens, Managing Director at Airobot, commented: "We were looking for a partner to supply us with a robust drone platform. We found that partner in Acecore."
"The Partnership with Acecore is mutually beneficial – by combining the Acecore Zoe with our AiroCore we have created a fully programmable 4G BVLOS platform which goes beyond mapping applications. For example, we can provide other custom solution developers with a direct IP link to their payload, together with RTK GPS position information and power. So they can focus on developing their application."