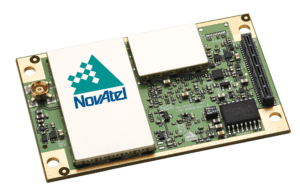 Hexagon | NovAtel has released a new purpose-built driver providing Robot Operating System (ROS) support for the company's OEM7 family of GNSS receivers. The driver provides an optimized interface that allows systems developers and application engineers to speed up integration of the receivers into autonomous robotics projects such as UAVs (unmanned aerial vehicles) and UGVs (unmanned ground vehicles).
The driver can be downloaded from NovAtel's GitHub repository and is also available as a ROS Binary Package for direct installation.
NovAtel's OEM7 GNSS receivers are compact board-level multi-frequency receivers that provide advanced interference mitigation features and scalability from sub-metre to centimetre level positioning.
With the new ROS driver, developers looking to take advantage of NovAtel's OEM7 platform can quickly and easily access the critical data needed to build autonomy algorithms for applications such as academic research, robotic public transportation vehicles, drones and more. Data from multiple sensors can be combined seamlessly without the need to adapt community-developed drivers. Tested using the Hexagon | AutonomouStuff platform, the driver ensures that the data received accurately reflects the output provided by the receiver, while also giving users the ability to record raw data for post-processing.
Miguel Amor, Chief Marketing Officer of Hexagon's Autonomy & Positioning division, commented: "We are excited to introduce our first purpose-built driver powered by ROS to the GitHub community. Its development is a result of collaboration between NovAtel and AutonomouStuff in support of Hexagon's Smart Autonomous Mobility portfolio, unveiled at CES 2020 in Las Vegas. The portfolio is a comprehensive solutions platform that brings together all the necessary sensors, software and services to make autonomous driving possible."