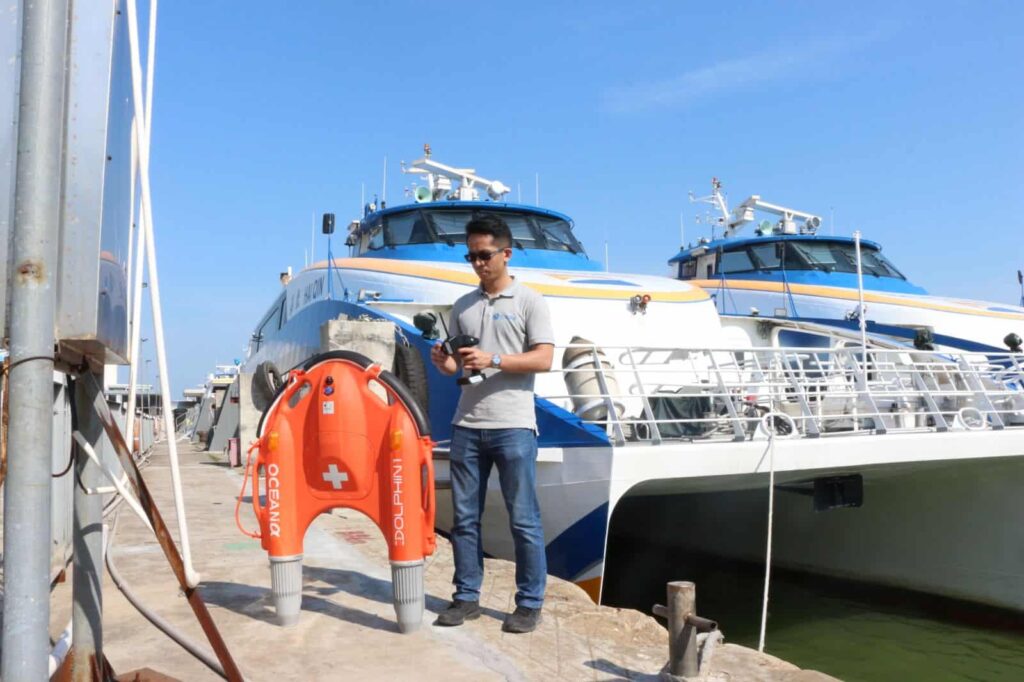 OceanAlpha's Dolphin 1 remote-controlled self-propelled unmanned surface vehicle (USV) has been used at a passenger port in Zhuhai, China to deploy mooring lines for floating barges. The Dolphin 1 has a load capacity of 150kg and an operational range of 500 meters, and is often used as a rescue platform as well as for lightweight water transportation tasks.
Every year from June to August is typhoon season in Zhuhai. In Jiuzhou passenger port, only one side of each floating barge is fixed to the pier, meaning that when a typhoon hits, the strong wind and waves can violently flip the other side, causing safety hazards. The port thus decided to carry out a series of typhoon-proof reinforcement works for the barges, which included attaching traction ropes to the opposite shore 230 meters away.
The seemingly simple task of setting up these traction ropes and their mooring lines often requires vessels for transportation of the lines, and thus entails high labour costs with low efficiency. Staff at the port decided to trial transportation using OceanAlpha's Dolphin 1. After each traction rope was transported to the opposite shore, the staff used a forklift to pull the mooring line ashore and tightened it in place.
In total, the staff set up 4 lines with the assistance of Dolphin 1, which only took approximately 1 hour – 40 minutes shorter than the estimated time.
A spokesperson for Jiuzhou port management stated: "Before this, if we wanted to tighten the floating barges on site, we needed to transport several 250-meter mooring lines, which are very heavy, to the opposite shore. There is a lack of suitable small work boats in the port because we only dock large passenger ships. The cost of transferring a work boat from other places is high and the operation is quite complicated."
Watch a video of the operation below: