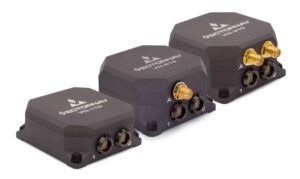 VectorNav Technologies, a developer of inertial navigation systems for unmanned aerial vehicles (UAVs) and robotic platforms, has announced that its Tactical Series line of IMU and GNSS/INS products, designed for low-SWaP defense and aerospace applications, has completed a series of MIL-STD and DO-160 qualification tests.
The Tactical Series products underwent testing by independent, certified companies for MIL-STD-810G, DO-160G, MIL-STD-1275E and MIL-STD-461. These tests demonstrate the resilience of the devices to extremes of temperature, shock, vibration and other environments, and conformance to numerous electrical interface and EMI standards.
VectorNav's Tactical Series includes:
VN-110 IMU/AHRS (Inertial Measurement Unit/Attitude Heading Reference System)
VN-210 GNSS/INS (GNSS-Inertial Navigation System)
VN-310 GNSS-Compass aided GNSS/INS
All products in the Tactical Series incorporate an onboard tactical-grade IMU (<1˚/hr in-run gyro bias stability), along with VectorNav's proprietary filtering, INS and GNSS-Compass algorithms. They feature 1 to 2 mrad attitude performance, compact rugged enclosures and a 10-pin auxiliary port for integration with external RTK, SAASM-based GNSS receivers and higher-performance IMUs.
Jakub Maslikowski, VectorNav Director of Sales and Marketing, commented: "There is high demand for dependable, tactical-grade navigation solutions that perform in challenging environmental and operating conditions. As the smallest, most cost-effective INS with this level of performance and robustness, the Tactical Series is the superior choice for systems integrators seeking these solutions."