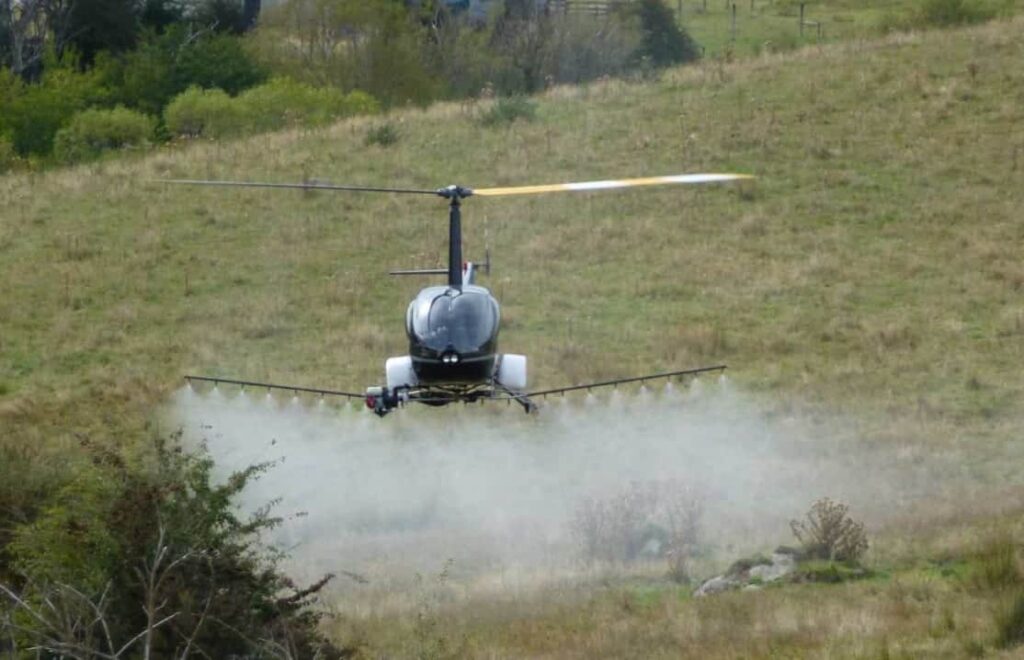 UAVOS has announced the addition of a new unmanned helicopter to its lineup of UAVs (unmanned aerial vehicles) for precision agriculture. The R22-UV, based on the Robinson helicopter, is designed for spraying applications such as disease, weed and pest control.
The R22-UV has been equipped with a specially designed spraying system for liquid chemicals with a capacity of 100 litres. The helicopter, which weighs 42kg with a boom span of 7m, has a flight endurance of 2 hours. It can be operated day or night even in adverse weather conditions, and its VTOL (Vertical Takeoff and Landing) capability means that it requires no airfields.
Unlike heavy ground machinery, which cannot operate in fields immediately after heavy rainfall, UAVs such as the R22-UV do not need to touch the ground and so can get to work immediately without the risk of soil compaction. The use of drones to replace human workers with backpack chemical sprayers also reduces the risk caused by placing people in contact with noxious chemicals.
UAVs for precision agriculture also allow for more precision in chemical application. In particular, the downward thrust produced by the rotor of an unmanned helicopter helps spread drops of pesticide evenly throughout the crop. Targeted application of agrochemicals, following analysis of imagery that can also be acquired by drone, minimises cost and reduces the impact of the chemicals on the surrounding environment.
Aliaksei Stratsilatau, CEO of UAVOS, commented: "Precision agriculture is based on the use of valuable metrics to make farmers' crop management efficient and optimized. Validating-of-damage reports used to be on paper. So, unmanned aircraft help our customers to validate the veracity of reports so that we could come up with a comprehensive solution. Generally, agriculture is very complex and there are a lot of problems but there are solutions available through the new technology."