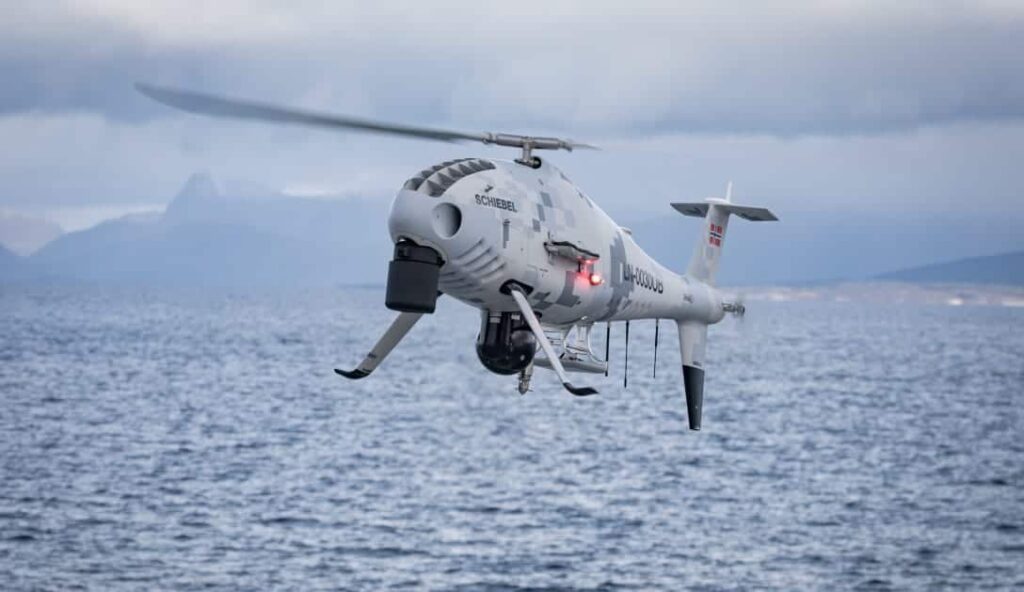 Schiebel has announced that its CAMCOPTER S-100 Vertical Takeoff and Landing (VTOL) unmanned aerial system (UAS) has been demonstrated to the Norwegian Coast Guard, in a series of trials that showcased the aircraft's shipboard integration and search and rescue (SAR) capabilities. The trials took place on board the icebreaker and offshore patrol vessel KV Svalbard.
During the search and rescue mission, the CAMCOPTER S-100 was teamed with a manned Sea King helicopter for a simulated "man overboard" operation. The UAS used an Overwatch Imaging PT-8 Oceanwatch wide-area maritime surveillance payload and an L3 Harris Wescam MX-10 real-time Electro-Optical/Infra-Red (EO/IR) camera to find a dummy floating in the water. The CAMCOPTER UAS was also equipped with a Schiebel-designed harpoon system, which supports takeoff and landing in conditions up to Sea State 5.
Watch the video:

Images captured by the payloads were transmitted in real time via the aircraft's Radionor Maritime Broadband Radio (MBR) link back to an operations room on board the KV Svalbard as well as to a local onshore control centre. From the control centre the data was then transferred via the internet to Norway's Joint Rescue Center. At the conclusion of the operation, the dummy was retrieved from the water by the Sea King helicopter and transferred to the deck of the KV Svalbard.
Hans Georg Schiebel, Chairman of the Schiebel Group, commented: "This successful search and rescue trial is another great example of Schiebel continuously staying ahead of the curve. The S-100 is the only VTOL UAS outside of the United States that is routinely flying from ships and in addition it is capable to carry a multitude of payloads. Especially for maritime search and rescue missions, the capabilities of the S-100 convince customers, given its compact size and the ability to scan vast areas for small objects."