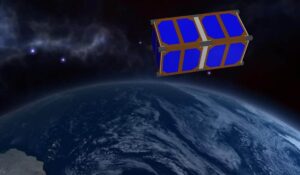 Nicomatic, a manufacturer of high-performance interconnect solutions for unmanned aerial vehicles (UAVs), drones and other aerospace and robotics applications, has released the following article concerning the importance of current-carrying capacity, derating and connector design for nano-satellite applications.
Reliability for space missions is critical, as repairing failures once the satellite has been deployed is impossible. Since even nano- satellites can cost many thousands of dollars to launch, if a device fails to perform purely because of a faulty connector, then making that wrong connector choice will prove to be a very expensive mistake.
Satellite applications place very stringent and specific demands on the components used – size, weight, resistance to shock, vibration and extremes of temperature – and as connectors play a dual role, providing both electrical and physical connectivity, a thorough analysis of the performance of connectors chosen for such applications is crucial. Miniaturisation is essential to maximise the payload, and devices must be able to perform multiple missions.
Nano–satellites are small, usually weighing under 500 kg, and in some cases a lot less. For example, Cubesats, built to a standard format of 10x10x10cm, weigh just 1.33kg. Connectors are such a critical component because not only do they carry a signal (or power), they also physically connect to parts of a system. Therefore, there are mechanical stresses on the connector as well as the electrical performance to consider. In space applications, connectors must survive high levels of shock and vibration at launch, plus extremes of temperature as the satellite orbits between exposure to the sun and 'the dark side of the moon'.
The challenge is to identify a connector system that is both robust and durable enough to survive the space environment, yet is high-performance, light and small. Space-grade parts do exist, but they are very expensive, and Mil-Spec connectors are nearly-always well-suited to the needs of satellite missions. Recent studies undertaken at the Space Center within the University of Grenoble shows that many Cubesat (CSUG) failures are due to bad connections.
Mathieu Barthelemy, director of the Grenoble University Spatial Centre (CSUG), commented: "The current-carrying capacity of connectors used in nano-satellites and Cubesats is very important and can endanger the entire mission. In these projects, components are often taken 'off- the-shelf' and are therefore more likely to be more sensitive to current variations."
The current-carrying capability of the signal or power pin of the connector is one of the basic specifications to consider. This will determine how much current can be passed safely through the connector contact. This figure must also be considered in association with any derating curves which will reduce the amount of current due to environmental and test factors. Nicomatic teams recently worked with a customer that was using a CMM connectors with high power contacts to cope with 10A fast pulse currents and 3A for continuous use. Nicomatic was able to advise that the company could safely use lower-rated signal contacts, with significant space-savings.