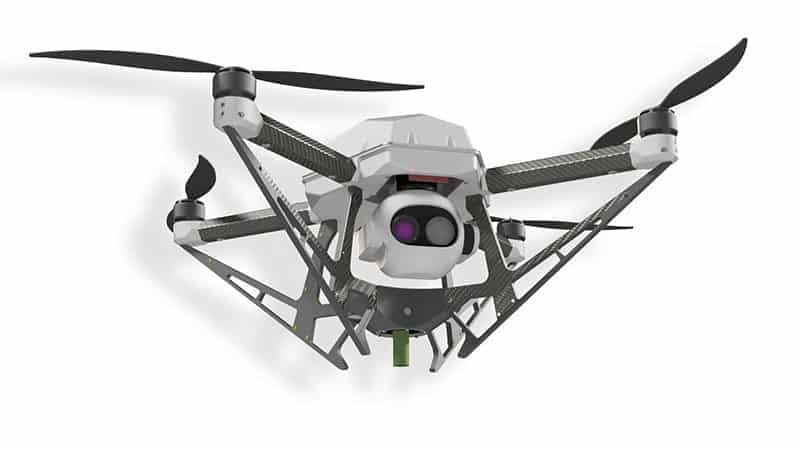 Persistent Systems has announced that it has entered into a five-year agreement with tethered drone solutions provider Hoverfly Technologies Inc. Hoverfly will be joining the Wave Relay Ecosystem, an alliance of unmanned system and sensor companies that integrate the Wave Relay mobile ad hoc network (MANET) into their products. Hoverfly's tether-powered, small unmanned aircraft systems (sUAS), LiveSky and the BigSky, will both be part of the Ecosystem, with the Wave Relay MANET offered as the standard communication link.
"We are proud to continue to grow the Ecosystem and incorporate new systems that help further the effort towards a networked battlefield," said Brian Soles, Director of Business Development for Persistent Systems. "The Wave Relay MANET can scale and operate effectively in urban environments where the LiveSky and BigSky excel."
By incorporating Persistent's MANET radios on their sUAS, Hoverfly improves their offerings' operational capabilities in dense urban environments. The tethered capability of the LiveSky and BigSky allow them to reach above tall buildings to spread the network farther. Greater networking capabilities provide the warfighter with real-time situational awareness for quick, in-the-moment tactical decisions.
"As the Army is working towards networking the battlefield, the addition of the Wave Relay MANET to our tethered drones enhances capabilities for communications, ISR, rogue reconnaissance, and security," said Rob Topping, CEO of Hoverfly. "This integration provides a much-needed communication link that enables a wholly networked solution."
The Hoverfly systems operate at altitudes of 200 feet above the ground, where a tether cable provides continuous power and high speed ethernet connectivity. With the Embedded Module now integrated into Hoverfly's offerings, users benefit from the range and performance that the MANET can deliver in this unobstructed, advantaged location for miles of connectivity.
"This partnership represents a significant new addition to the Ecosystem. Providing an advantaged communication relay extends the range and performance of all the Wave Relay Ecosystem offerings. Now unmanned ground robots can operate further in complex urban environments, and sensor data can be retrieved at greater distances. The Hoverfly integration of the Wave Relay MANET is a true capability multiplier on the networked battlefield," added Brian Soles.