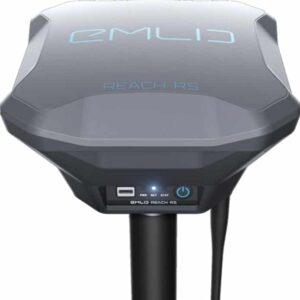 Emlid has announced the introduction of Reach RS, a ruggedized battery-powered RTK GNSS receiver that enables centimeter-accurate positioning for surveying, mapping, agriculture and drone applications. With an integrated high performance dual-feed antenna mounted on a large ground plane, Reach RS is able to reliably track GPS, Glonass, Beidou, Galileo, QZSS and SBAS satellites.
Via built-in Wi-Fi, Reach RS is able to access NTRIP corrections, stream data to the cloud and fetch software updates. In remote areas Reach RS units can communicate via integrated LoRa radios, providing a reliable correction link on distances up to 8 kilometers. Solution data can be accessed over Bluetooth, Wi-Fi and RS232. Functionality is extendable even further with USB OTG.
The power-efficient processor runs an RTK engine with up to 14Hz update rate and can operate for as long as 30 hours on a single battery charge.
Reach RS comes with a ReachView web app that works on any device with a browser, does not require an internet connection, and allows the user to easily configure settings, correction input and solution output. In addition, the user can record and download RINEX logs, view status, satellite signal strength, captured events and location on a map. 2 gigabytes of internal storage are available for raw data RINEX logs and solution tracks which can be easily accessed from the ReachView app.
The receiver, which is IP67 rated and housed in a rugged polycarbonate enclosure, weighs 700 grams and is 145 millimeters wide.
For laying out GCPs, or other types of survey work, two Reach RS units can operate together, one in base mode and the other in rover mode. Reach RS is also seamlessly compatible with other available Reach modules, providing a compact and lightweight solution for drones with the ability to integrate with autopilots for navigation and cameras for photo geotagging.
Find suppliers of GNSS Products for Unmanned Systems >