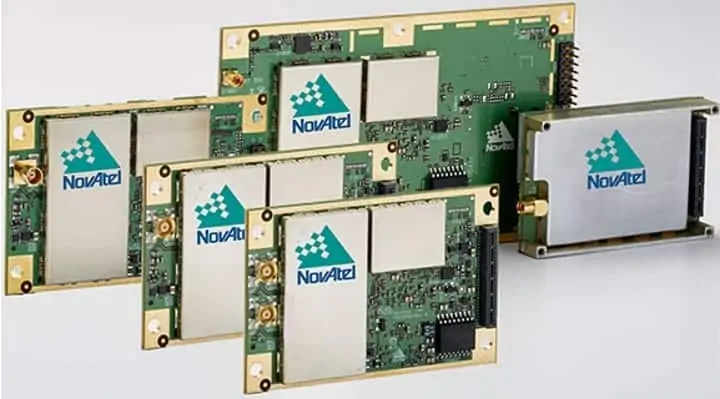 NovAtel Inc. has announced that it has unveiled its new OEM7 positioning engine, incorporating new capabilities and features that significantly enhance GNSS-based positioning reliability, accuracy and availability.
The OEM7 family expands the receiver options open to system integrators, making it easier to match customer application requirements to the optimal positioning solution. Five GNSS receiver cards are available, including the new OEM7600, the company's smallest, lightest dual-frequency receiver card. All cards have 555 available channels, are multi-constellation and multi-frequency and provide new advanced interference awareness and mitigation capabilities. Additionally, every OEM7 card can receive satellite-based TerraStar correction signals, making centimetre level positioning globally available. A new compact enclosure, the PwrPak7T, houses OEM7 receiver technology, as well as offering 16 GB onboard data storage, built-in Wi-Fi and serial, USB, CAN and Ethernet for ease of integration.
A cornerstone of the OEM7 platform is the Interference ToolkitT. The Interference Toolkit is used to detect sources of interference and intentional and unintentional jamming, and then mitigates such occurrences using proprietary NovAtel filters. Integrators can take advantage of a spectrum analysis function that identifies which GNSS frequency is experiencing the interference. Further, it can also detect electromagnetic interference caused by other components in an integration project, allowing developers to implement the filter and eliminate the problem.
"As we see more complex positioning systems being developed, for autonomous vehicles for example, GNSS positioning accuracy and availability needs to be more reliable than ever," states Pat Fenton, VP Technology & Chief Technology Officer for NovAtel. "This means our technology must be able to not only identify when interference and jamming is occurring, but also address and eliminate instances of inaccurate or unavailable positioning. The OEM7 does this."
L-Band functionality on every OEM7 receiver enables satellite delivery of Precise Point Positioning (PPP) correction data directly to the receiver. Utilizing correction data from the TerraStar network, this satellite delivery method means centimetre level positioning is possible to a broader range of applications, particularly in more complex positioning environments where setting up a Real Time Kinematic (RTK) correction network may be difficult or impossible. With 80 ground reference stations, and triple system redundancies built in, TerraStar offers users at least two satellite beams, anywhere on the planet.
NovAtel's SPANR technology is supported on every OEM7 receiver, adding to the reliability of the positioning solution. SPAN tightly-couples NovAtel's GNSS technology with a number of available Inertial Measurement Units (IMUs) to provide robust, continuous 3D positioning, velocity and attitude, even through periods of blocked or unavailable signal reception.