Webinar Details
Hosted by Parallel Flight Technologies
February 2, 2022, 18:00 (UTC)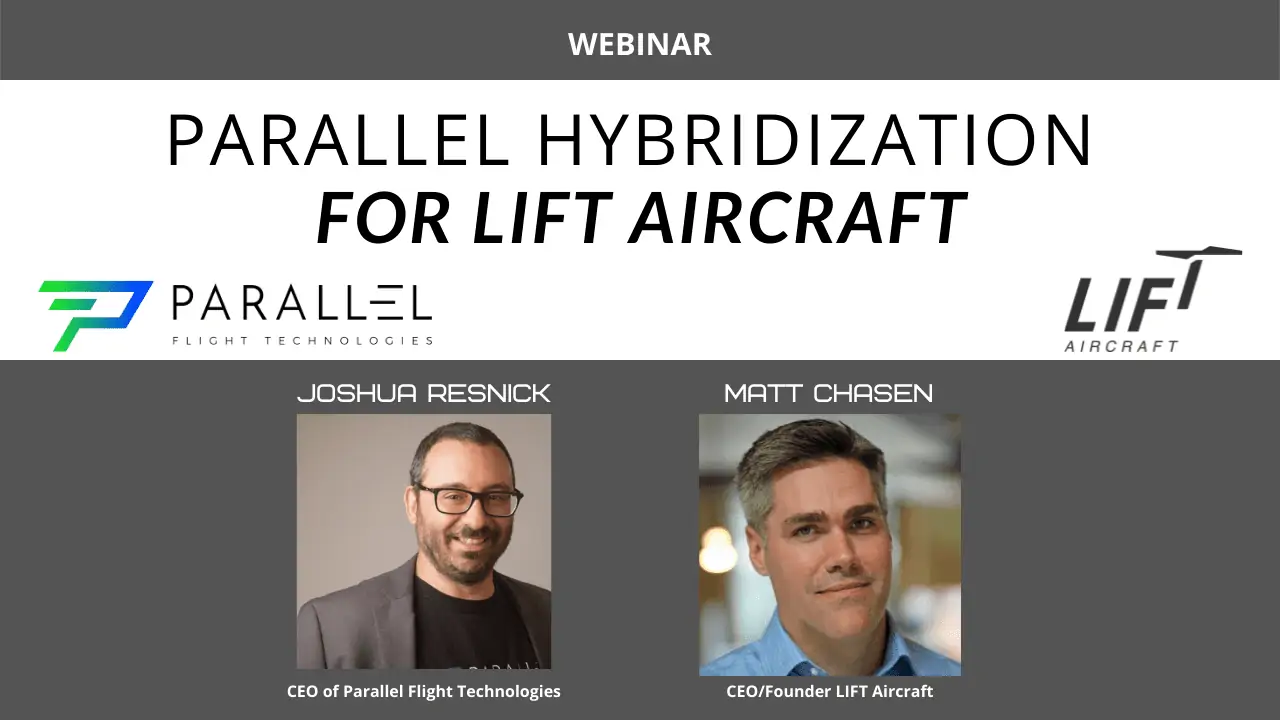 Join us for a webinar to learn more about the newly announced Parallel Flight Technologies and LIFT Aircraft collaboration to develop a hybridization solution for LIFT's HEXA eVTOL aircraft. Parallel Flight CEO, Joshua Resnick, and LIFT Aircraft CEO Matt Chasen will be live to discuss more about their cutting-edge tech startups, the future of hybridization, and answer questions at this exclusive event!
About Joshua Resnick: CEO of Parallel Flight Technologies
Joshua brings a passion for groundbreaking technology and years of hybrid and electric powertrain expertise to Parallel. Prior to Parallel, he led system architecture and electrical engineering for the Tesla Semi Truck program. Before moving to California, he led state-funded research for the State of Alaska developing hybrid electric commercial fishing boats. When he is not designing the future, Joshua enjoys flying RC helicopters and hiking with his family
About Matt Chasen: Founder & CEO of LIFT Aircraft
Matt Chasen is founder and CEO of LIFT Aircraft. LIFT's electric vertical takeoff and landing (eVTOL) aircraft, HEXA, is making the joy and utility of personal, vertical flight accessible to everyone. While getting his MBA at The University of Texas in 2003, Chasen founded uShip – the first and largest online marketplace for shipping with over $200M in annual gross sales. Chasen studied mechanical and aerospace engineering at The University of Texas at Austin and was a NASA scholarship recipient. An engineer turned entrepreneur, Chasen was an engineer at Boeing in Seattle, where he worked on the F-22 Fighter, Airborne Laser, and other advanced aerospace projects prior to business school. He is a pilot, an avid sailor and scuba diver. Matt lives in Austin with his wife and two children.