Oceanalpha sat down with UST (unmannedsystemstechnology.com) to discuss the future expansion of the Unmanned Surface Vessel industry, and how the research and development lead company is driving innovation across multiple maritime sectors and varying water depths.
What sets Oceanalpha apart in the field of unmanned and autonomous surface vessels?
A world leading commercial Unmanned Surface Vessel (USV) company, OceanAlpha Group Ltd. has a workforce of over 626 employees, more than 214 R&D engineers and 402 USV-related patents.
Over the past twelve years, Oceanalpha has always insisted on independent research and development. It has mastered core technologies in USV, including Overall System Integration Architecture, Intelligent Autonomous Control, Swarm Control, Hardware Design of Control Unit, Communication Enhancement, and Autonomous Deployment & Recovery.
To support humans getting closer to the ocean with lower costs, higher efficiency and enhanced safety, Oceanalpha is serving professionals from various fields with integrated USV solutions. We have developed and finalized nearly 30 products with exclusive intellectual property rights owned by the company. These products are redefining data acquisition, life-saving, auto-piloting and swarm control in the marine sector.
So far, Oceanalpha's business involves inland & offshore surveying, environmental monitoring, marine engineering, security & rescue, transportation, and recreation. The company is now operating in more than 50 countries worldwide as a global driving power in intelligent, unmanned surface technologies.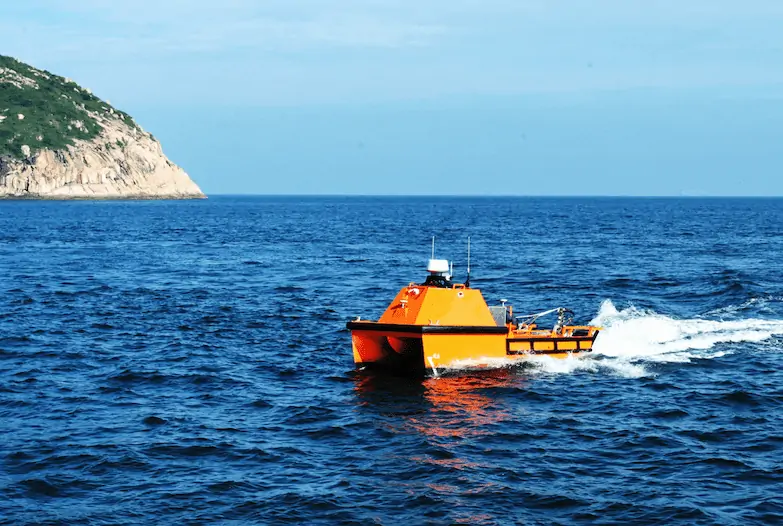 What changes have you witnessed in the use and acceptance of autonomous boats and marine vehicles in recent years?
From a global perspective, autonomous boats and marine vehicles for commercial use are experiencing an unprecedented period of rapid development, unmanned boats are widely recognized worldwide and rapid change is manifesting in the following aspects:
Sectors are diversifying: In the very beginning, Oceanalpha's unmanned surface vessel (USV) products were used mainly for environmental monitoring in inland rivers and lakes. Now our USVs have been applied to more than 20 scenarios, and they can be classified into three types:
Inner Water Vessels
Marine Survey Vessels
Maritime Security Vessels
The application of autonomous boats is expected to be constantly extended, and the market will be further fragmented into multiple sectors to suit different industry's needs.
Technologies are updating rapidly: As a company focused on USV R&D and manufacturing integrated UAV solutions, we embrace the rapid iteration of technologies and are happy to see that there have always been new, cutting-edge technologies ready to be brought to the world.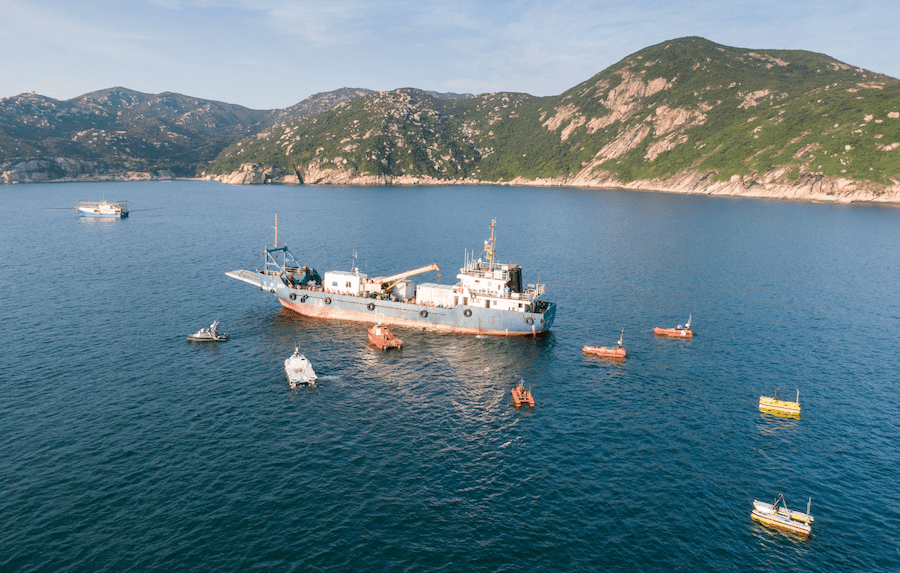 What type of challenges are typically faced by users of Oceanalpha uncrewed vessel technology?
Based on Oceanalpha's close cooperation with clients from different sectors, we understand the common challenges under traditional methods faced during daily operations. Working closely with customers to provide innovative USV solutions, Oceanalpha has developed a portfolio of USVs deployed with advanced sensing, navigation, control, and communication systems and mission payloads that can autonomously navigate and perform tasks on the water.
Compared with the dangerous, inaccurate, and high-cost traditional methods, users who have chosen Oceanalpha USV solutions benefit from the following improvements: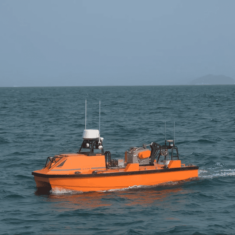 Problem: The traditional vessel is expensive and high-cost in operation & maintenance. Also, for a massive survey task, a lot of labor and vehicles are required for on-field operation.
Solution: Piloted by the autonomous navigation algorithm, the USV can carry out round-clock inspections according to the preset route and conduct pre-programmed multi-purpose surveying missions autonomously. It significantly reduces the crew members' workload and largely saves fuel and employee expenses.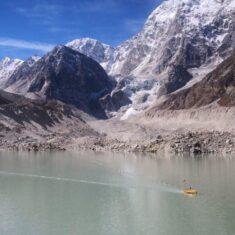 Problem: It is difficult for the traditional manned boat to sail on extremely shallow water, which limits the crew to conduct tasks in specific water areas.
Solution: The USV's shallow draft and high maneuverability on water enable it to work in areas that traditional workboats cannot reach. Furthermore, marine aluminum alloy is used as Oceanalpha's oceanographic USV hull material for its high strength and superior corrosion resistance. Thus, the USV is capable of working in harsh natural environments.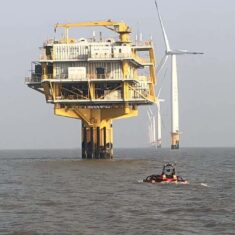 Problem: Personnel could be exposed to safety risks when operating on unknown water or where pipelines/cables leak.
Solution: Both the USV and the survey instruments are operated by the base station. Operators can also control the USV manually by using a remote controller. Therefore, the USV can remain working in Sea State 3-4 Conditions without risking the operator's safety.
The USV can sail from the dock or be deployed by a mother ship during operation. The surveyor can complete the marine investigation and position onshore or on board the mothership.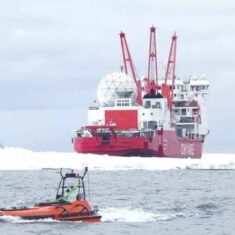 Problem: For surveying tasks, man-driven boats are not stable on survey line tracking, which might result in inaccurate or missing data. And it also takes more time for the surveyors to get completed data.
Solution: The USV can sail along the preset route with a deviation of less than 1 meter for a precise survey. Deployed with radar, HD camera and LiDAR, the USV also gives an excellent performance in collision avoidance.
For some of Oceanalpha's oceanographic surveying USV products, such as the M40P and L25, the catamaran designs significantly reduce swaying and spray foam, providing stable and quiet working conditions for acoustic equipment, which leads to more accurate results.
Also, its long endurance enables the crew to complete the geophysical and environmental data acquisition faster. For example, the Oceanalpha M40P Multi-function USV has an operation time of up to 24 hours at a survey speed of 4.5kn.
Could you give us any details of how your Smart Lifebuoy solutions have been used in real-world use cases?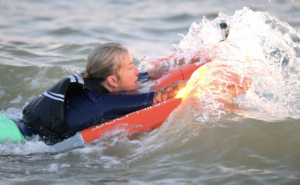 According to WHO's global report, drownings claim the lives of 372 000 people each year. It has been a significant challenge for rescuers worldwide to shorten their response time for an increased success rate in their tasks. However, rescuers are often forced to adapt to extreme conditions, facing risks to their lives.
Therefore, Oceanalpha is keen to equip the rescue force with intelligent technologies. The company has developed the Dolphin1 water rescue robot to contribute to life-saving missions since 2019. Later, Oceanalpha launched the Water Rescue Stretcher Bed as another significant product for its Search & Rescue Portfolio. The invention of high-speed water rescue robots is expected to enhance the efficiency of water rescue and reduce risks for rescuers under various streamflow conditions.
We would love to highlight a successful use case that happened on 9th August 2022, when Dolphin 1 Water Rescue Robot was applied to rescue a drowning teenager from the rough waves. It was at around 18:00, and the Shawo Police Station of Weihai Maritime Police Detachment received an alarm for help. A 15-year-old youngster had been swept out to the sea, approximately 100m far from shore, by a strong undercurrent when swimming along the coast. The police launched the Dolphin 1 lifebuoy to rescue him at once. Dolphin1 rides the huge waves to approach the drowning teen at its max speed and reaches him in a very short time under the remote control of the police. Fortunately, the youngster successfully grabs Dolphin 1 and is brought back to shallow water safely. The police officers wade into the water to take the boy to a safe place for a further physical checkup.
It is a notable example of many successful use cases of Dolphin 1, a portable, easy-to-use and affordable electric watercraft to assist rescuers worldwide in guarding a wider water area. The Remote-Controlled Lifebuoy can also support the rescue team in saving victims trapped in floods. Oceanalpha USV assets can complement the role of search and rescue (SAR) teams because of their ability to operate in dangerous scenarios and under adverse environmental conditions without risking rescuer's lives.
How do you see ASV and USV technology developing in 2023 and beyond?
Based on our analysis of the current development of USVs, we noticed the three following global trends:
Marine survey is a crucial sector for USV applications worldwide
Application modes are transitioning from single USV operation to USV fleet operations
Business models have developed, from selling products to providing comprehensive solutions, including products and services
The development of USVs in the future will be more demand-oriented, and the design will be centered around the functions, missions, purposes, and payloads. Intelligent USVs will grow into intelligent USV fleets or swarm intelligence, which means the swarm can obtain and understand environmental information efficiently and accurately and make decisions autonomously, while adjusting operating parameters according to the dynamic changes of the observation target.
The future development of the USV industry is definitely promising and we are confident that Oceanalpha will be a major force in driving the industry forward.