One of the greatest challenges facing farmers today is to increase productivity per hectare.
I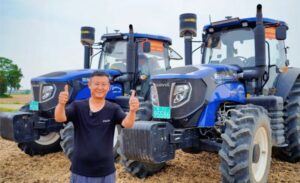 n this case study, CHC Navigation discusses how the practice of growing two or more crops in the same field, known as intercropping, is starting to be used worldwide as an effective and sustainable agricultural practice. Read more >>
Intercropping aims to get the best possible yield from a plot of land by maximizing the potential available resources at a given time.
When crops are planted together, they can affect each other positively or negatively as they compete for light, nutrients, and water. CHCNAV believes careful plant selection, precise seeding, and growth management are key to success.
In this study, soybeans and corn were co-cropped in the same field in China, and CHCNAV's auto-steering system was used to attain the precision seeding goals. The company answered the following questions:
What are the Precision Seeding Requirements for Intercropping?

What are the Benefits of Using an Autosteering System in Intercropping?

What Complete Precision Farming Solutions Can CHCNAV Offer for Intercropping?
Read the full case study, or visit CHCNAV's website to answer any further questions about the company's solutions or dealership opportunities.