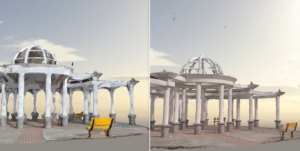 CHC Navigation discusses how its i93 GNSS system enhanced 3D modeling in a digital city project.
Airborne technologies are widely used as the most common technique for collecting 3D data over large areas. However, due to the limitations of airborne visibility, some areas are distorted by the presence of masks. With CHCNAV's Visual RTK-i93, terrestrial data can be rapidly collected using video recording, effectively complementing the data processing shortcomings of airborne platforms.
In a study, a detailed 3D model of a pavilion located in a residential complex was necessary to create. Conventional aerial surveys did not provide adequate data to make an accurate 3D model due to the limitations of the drone's aerial view. Complete survey data could not be obtained for certain interior and exterior areas of the building structure. The result was a model that omitted multiple surface areas.
Photographs taken with the traditional camera would not provide an effective solution due to inaccurate location information and misalignment between ground and aerial data. The manual post-processing of these images would also be time-consuming and labor-intensive. The i93 GNSS receiver, which incorporates the latest GNSS, RTK, IMU, and dual-camera video photogrammetry technologies, was selected for this project because it enables fast and accurate data collection in the field.
Aerial surveys can gather a large amount of information in a short amount of time. However, using drones to conduct surveys in complex urban environments presents several unique challenges. Safety risks posed by tall buildings and power lines limit the area and height at which drones can operate in cities. To overcome these limitations, ground surveying systems, such as the i93 GNSS, complement aerial platforms and increase the completeness of the information collected for 3D building modeling.