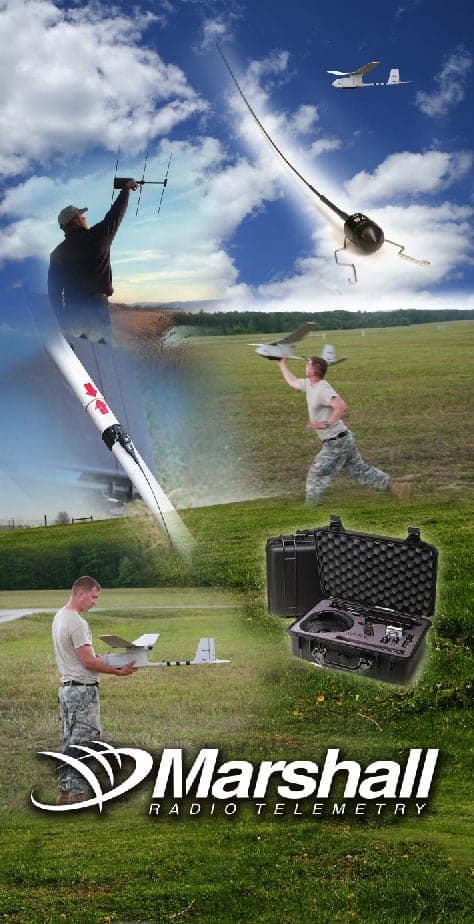 Marshall Radio Telemetry designs and builds tracking equipment to find targets over long distances or to recover drones and valuable assets lost in the field. Originally designed for recovering hunting falcons, Marshall UAV tracking equipment is powerful, lightweight and portable.
Our drone tracking technology has been successfully deployed by SOCOM and other groups to quickly locate and recover costly UAV's after an unintentional fly-aways, saving significant amounts of time and money.
Special mounting clips are available for easy on/off attachment of Marshall UAV transmitters to the fuselage of the AeroVironment Raven UAV.
Systems are generally comprised of one tracking receiver, several matched transmitters and a Desert Hard Case to house and protect the system.
Transmitter Beacons
Choose from five tiny (3 – 9grams) radio transmitter models designed to match your insitu needs. See spec and range charts: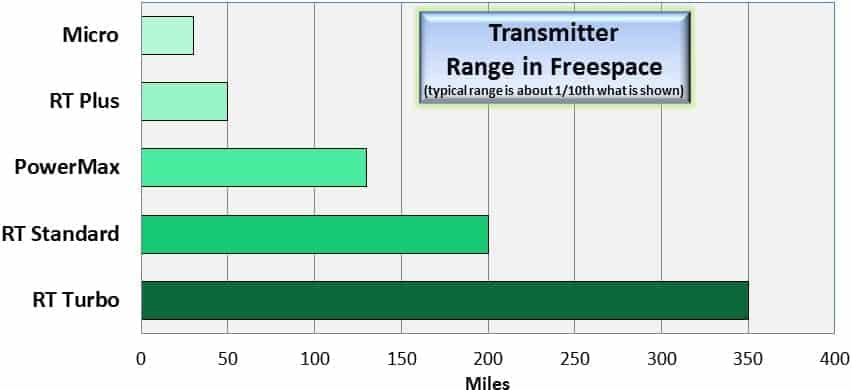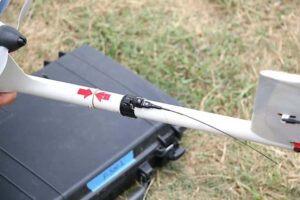 All UAV transmitters are housed in cases machined from the toughest 7075 aircraft aluminium. In addition to withstanding high physical shock, they can also withstand high electric fields and ESD events. Marshall Radio transmitters are specially engineered to provide perfect frequency stability over extreme temperatures to operate between -20F and 150F without signal drift.
Antenna lengths vary between 7 and 13 inches depending on the model used. Marshall Radio can assist in developing a custom attachment method for your UAV.
Transmitter Beacon Specifications
Micro
RT Plus
PowerMax
RT Std.
RT Turbo
Cost
$235
$205
$245
$325
$575
Body Size(Dia x H)
.565" x .330"
.540 x 1.10"
.720" x .420"
.540" x .990"
.540" x 1.030"
Weightw/ Batt
3.5g
9g
8g
9g
9.2g
Std. Duty Cycle
40ms40ppm
30ms95ppm
60ms48ppm
60ms56ppm
50ms60ppm
Apollo 13 Duty Cycle
20ms27ppm
30ms30ppm
30ms27ppm
n/a
20ms30ppm
Apollo 13 Activation Time (H)
10
16
16
n/a
24
Operating Temperature
-20F to +150 F(w/ new battery)
-40F to +150 F(w/ new battery)
Battery
CR1225 Lithium 3V
1/3N Lithium 3V
CR1632 Lithium 3V
1/3N Lithium 3V
1/3N Lithium 3V
Battery Life(Approx.)
5 days continuous
20 days continuous
9 days continuous
10 days continuous
5 days continuous
Free space range(ground range is approx. 1/10)
30mi.
50mi.
130mi.
200mi.
350mi.
Mounting Method
Spring Clip
Antenna Length
7.25"
7.875"
9.5"
13"
13"
Warranty
Three Years
5 years
Mag Switch
Yes
Low Battery Warning
Timer Only
Timer and Voltage
Direction Finding Receivers
UAV Tracking Receivers for Location & Recovery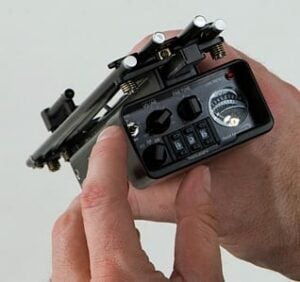 The Field Marshall direction finding receiver is used to locate and recover an asset by pointing the integral directional antenna in the direction of the strongest signal and moving toward it until the target containing the transmitter is found.
The receivers are 'channelized' for simple operation, where each UAV transmitter has a specific frequency for easy identification.
Two models of Field Marshall receiver are available. Both receivers incorporate the same collapsible three-element directional yagi antenna into a one-piece, lightweight and portable design. The three element yagi antenna design provides pinpoint accuracy and quick direction to target in locating a downed UAV.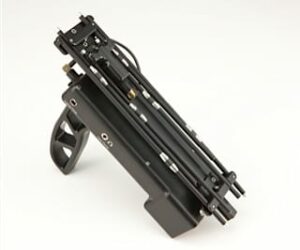 The Field Marshall 1000 covers one entire 1000KHZ band (tracking up to 10 unique transmitters), and utilizes the rugged and proven full size yagi antenna. The Field Marshall 5000 covers 5 bands (5000KHz), can track up to 50 targets, and uses our exclusive "Half Size Loaded" Yagi for ultra-compact size and ease of use.
Marshall UAV tracker receivers are housed in a rugged case machined from aircraft aluminium to shield receiver electronics from abuse and unwanted signals from all other sources. Control panels are back-lit with red light to protect the user's night vision during after-dark operations.