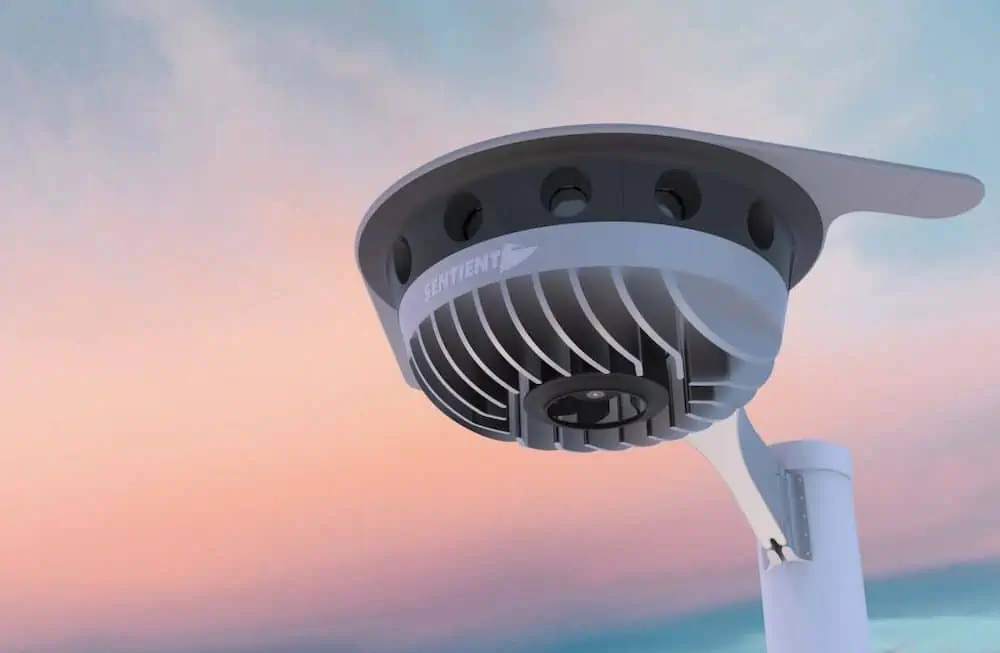 At the INDO PACIFIC 2022 Exposition, Sentient Vision Systems will launch its new Artificial Intelligence (AI) enabled Visual Detection And Ranging (ViDAR) Surface – a next generation surface lookout providing a day and night autonomous ocean surface surveillance.
Using advanced AI, ViDAR Surface can autonomously and efficiently detect, track, classify, and filter hundreds of objects and assist the operator to focus on the targets of interest, both during normal and high threat scenarios. This scalable and cost-effective solution is available in a self-contained pod.
ViDAR Surface is designed for real-time situational awareness and has the ability to detect ships, stealthy boats, small boat swarms, buoys, persons in the water, and aircraft. It can be deployed with a range of shore-based and maritime surface platforms, either crewed or uncrewed.

According to Paul Harris, Director of Business Development, Sentient Vision Systems, "the unrelenting line up of contract awards, customer demonstrations, backed by our heavyweight investment in Research & Development, exemplified by ViDAR Surface" places the Melbourne- headquartered innovator in pole position to grow markets as well as its share of these markets.

"We are determined to remain the key driver of this technology set and its various applications across civilian and defence markets."

The flagship products include Kestrel software for land and maritime surveillance and ViDAR, the world's first passive Optical Radar.

Sentient's recent key ViDAR milestones include:
Selected for a $2.1 million Australian government grant to establish a sovereign in-house manufacturing facility for its world-leading ViDAR search and surveillance pods. Sentient grant was selected under the Australian government's Department of Industry Science Energy and Resources' (DISER) Modern Manufacturing Initiative (MMI) Translation Stream. Once implemented, it will enable volume manufacture in Australia of the company's ViDAR pods for Australian and export customers. "Winning this grant is an important step for Sentient Vision Systems," said Sentient Vision Systems Managing Director and founder, Dr Paul Boxer. "We've been developing software-based AI surveillance systems for nearly two decades. We'll soon be able to manufacture our own hardware in larger quantities as well whilst maintaining control over their quality and supply for critical surveillance and safety missions."
Dutch Caribbean territories Coast Guard: ViDAR will be integrated on new lease helicopters and current patrol aircraft for aerial reconnaissance duties and search and rescue. Canadian Company PAL Aerospace Ltd and the Dutch Jet Support B.V., will carry forward the extended contract for the Dash-8 patrol aircraft. The two new SAR helicopters will be delivered by the UK's Bristow Helicopters Limited. With both contracts, the Coast Guard will future proof for the coming ten years of aircraft with high-quality sensors and means of communication with Sentient solutions at the core.
Sentient Vision Systems has been selected for a Foreign Comparative Technology (FCT) test by the U.S. Department of Defense to provide ViDAR Maritime systems for integration and evaluation for the U.S. Marine Corps (USMC). The ViDAR systems will be used for Intelligence Surveillance and Reconnaissance (ISR) missions, integrated into a medium-altitude long range unmanned aerial system operated by the USMC. It will be used to gather intelligence and enhance situational awareness during amphibious operations.
Announced at the Dubai Airshow, the UAE was showcased as the world launchpad for the ViDAR SCAR (Self Contained Aerial Reconnaissance) Pod debuting the AW-139 day/night pod. The UAE was selected as the airborne AI sensor centre of excellence for aircraft integration in collaboration with Austrian-based Airborne Technologies GmbH and UAE and UK Aircraft Integration Specialist company Phoenix Aerospace.
In Q4 2021, the Special Mission Aircraft Division of Austrian aircraft manufacturer Diamond Aircraft undertook a series of demonstrations of a new surveillance and Search and Rescue (SAR) capability, based on its DA42 twin-engine light aircraft, the DA42 MPP. In a remarkable turn of events, during its demonstration program off the Belgian coast, this aircraft was tasked at very short notice with a live SAR mission over the North Sea to rescue 24 migrants who were adrift for 48 hours, which it completed successfully and very quickly. Its success was due largely to its sensor payload including the ViDAR VMS-5 surveillance pod.

Helicopter prime contractor and mission system integrator Lockheed Martin has integrated some top-level aspects of ViDAR in an MH-60R as a prototype fit to demonstrate this cutting-edge Australian capability. Lockheed Martin will work with Sentient to explore and further evolve the capability of the ViDAR system. A successful trial could see this Australian ISR system integrated with the sensor suite on the MH-60R Seahawk, which is also operated by the Royal Australian Navy (RAN).
"Backed by the recent $2.1 Australian Sovereign MMI grant funding, Sentient has substantial capabilities in the domestic manufacturing space, augmented by strong relationships including integration and MRO across North America, Europe and the Middle East with international aviation partners," added Paul Harris.
Sentient Vision Systems' roll out of award-winning sensor software products and announcements of contract awards across the maritime domain place the company in a position to dominate the Search And Rescue (SAR) and the passive Intelligence, Surveillance and Reconnaissance (ISR) market.