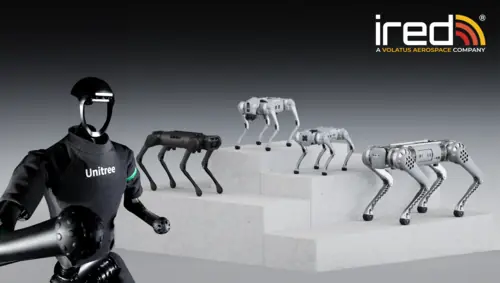 Unitree Robotics, a global leader in the development and manufacturing of high-performance quadruped and humanoid robots, has formed an exclusive partnership with iRed Limited, a Volatus Aerospace company, to facilitate the sales and distribution of their advanced robotic solutions across the UK.
Unitree Robotics has been at the forefront of robotic innovation, becoming the first company to initiate the public retail of high-performance quadruped robots. With a strong foundation in research and innovation, Unitree's robots, known for their strength, agility, and versatility, can mimic the movements of animals, navigating various terrains with ease. The imminent launch of their first universal humanoid robot is set to revolutionize the field of advanced robotics.
The UK's premier robotic drone service provider, iRed Limited, brings two decades of unparalleled service, support, and established relationships with key educational institutions and industries to this partnership. This collaboration is poised to significantly enhance Unitree's rapid expansion in the UK market.
The collaboration between Unitree Robotics and iRed is not only a win for both organizations but is also anticipated to be advantageous for numerous enterprises and industries across the UK. The advanced robotic solutions, with applications ranging from exploring dangerous terrains and conducting rescue missions in emergency situations to ensuring public safety through security patrols, are set to redefine operational capabilities in various sectors.
"This partnership with Unitree is a strategic move towards expanding our global footprint and bringing our advanced robotic solutions to diverse industries in the UK," said Tim Mammatt, Director of Strategy for iRed Limited. "We are excited to explore the myriad of possibilities and applications that Unitree's robots can offer across various sectors, including emergency rescue missions, public safety patrols, and last-mile courier deliveries."
Find suppliers and developers of Robotic Systems for unmanned applications > >