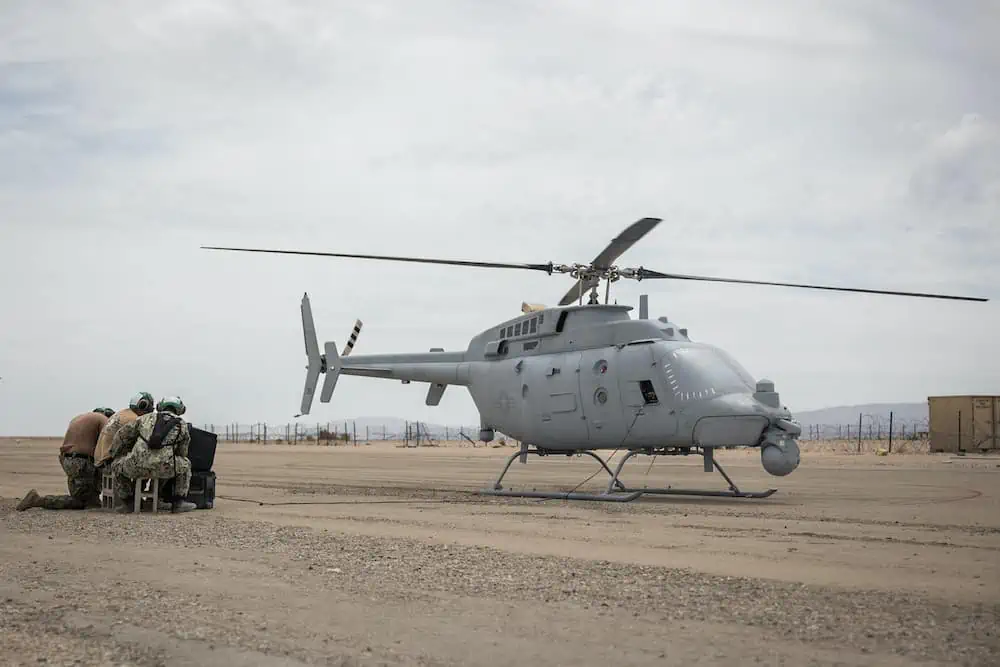 A first in U.S. Navy and Marine Corps history, Marines delivered fuel to a Navy MQ-8C Fire Scout unmanned autonomous helicopter from a Marine Corps CH-53E, at Marine Corps Air Ground Combat Center Twentynine Palms, California.
The innovative ADGR (aerial delivered ground refueling) trial was the first time a manned aircraft has provided fuel for an unmanned rotary wing aircraft.
Marines with Marine Heavy Helicopter Squadron (HMH) 361, Marine Aircraft Group 16, 3rd Marine Aircraft Wing, led the ADGR trial with the MQ-8C Fire Scout from Helicopter Sea Combat Squadron (HSC) 21, during Service Level Training Exercise (SLTE) 5-23.
The MQ-8C is a sea-based, vertical lift unmanned system that traditionally operates from a Littoral Combat Ship (LCS), a relatively small surface vessel designed for operations near shore.
The MQ-8C supports the LCS in and around littoral waters through data collection and assessment. The Navy and Marine Corps seized the opportunity to test the tactical application of operating a shipborne integrated intelligence, surveillance, reconnaissance platform for extended time ashore in a simulated littoral environment.
Marines leveraged the CH-53E's ability to provide fuel to air and ground vehicles in austere environments to maximize the range of the MQ-8C. The CH-53E transferred approximately 700 pounds of fuel, just under the maximum payload of the MQ-8C, which supports an estimated range of 150 nautical miles. By comparison, the CH-53E has a maximum 23,450 pound fuel payload and supports an estimated range of 540 nautical miles.
The maximum fuel payload of the MQ-8C is so minimal compared to the fuel payload of the CH-53E, that the CH-53E can refuel the MQ-8C multiple times while operating in a combat environment without sacrificing much of its own fuel. This supports the joint force by keeping the MQ-8C on the battlespace longer.
"Coming to Twentynine Palms was an opportunity to showcase that the MQ-8C can be a valuable platform in support of a Marine Air-Ground Task Force," said Lt. Cmdr. Brian "Freq" Paskey, the HSC-21 training officer. "By conducting ADGR in addition to using a mobile control station, the MQ-8C can be operated to support Marines in nearly any environment."
During SLTE, a series of phased exercises that train Marine units for peer adversaries, the HSC-21 crew experimented with and further developed the tactical application of the MQ-8C in littoral environments in support of troops anywhere in the world.
"This is the first instance of MQ-8C in Twentynine Palms, but I think we'll be seeing more of them." said Lt. Col. Nathaniel Griggs, Director of Aviation Combat and Integration (AC&I) at Marine Air-Ground Task Force Training Command (MAGTFTC).
This iteration of SLTE ends in August, but lessons captured from this trial were captured by the Navy and Marine Corps.
"For the MQ-8C, the U.S. is exploring the tactical application of an asset with expanding capabilities – they need to know what is working, and what they need to work on," Griggs said. "We are in the desert, but the logistical, administrative, and most importantly the tactical lessons learned here are applicable to any clime and place."