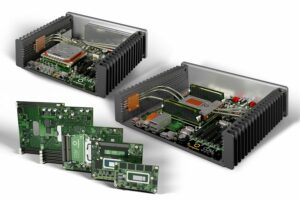 congatec has confirmed that it has introduced its comprehensive COM-HPC (computer-on-modules for high-performance computing) ecosystem to the Chinese market for the first time. The product portfolio, which includes high-performance COM-HPC Server-on-Modules and compact COM-HPC Mini modules, was unveiled at the Security China and embedded world China trade shows.
The flagship of congatec's embedded world China showcase was the first samples of COM‑HPC Mini designs. Launching officially after final PICMG ratification of the new specification, the first high-performance COM-HPC Mini modules will be equipped with the new 13th Gen Intel Core processors (codename Raptor Lake), which represent the latest benchmark for the high end of embedded and edge computing at client level. With this new standard, even the most space-constrained solutions can now benefit from a high-performance boost and a significantly larger number of new high-speed interfaces. Thus, entire product families can now migrate to the new PICMG standard.
congatec also debuted brand-new rugged fanless edge server designs, designed to accelerate the next generation of real-time microserver workloads in harsh environments and extended temperature ranges. Based on latest COM-HPC Server modules, performance features include up to 20 cores, up to 1 TB RAM, PCIe Gen 4 speed, as well as up to 100 GbE connectivity and TCC/TSN support. In addition, two rugged edge designs demonstrate the extended possibilities that congatec's modules and sophisticated cooling solutions hold for edge computing. Applications includes industrial workload consolidation servers for automation and robotics, as well as computer vision-enabled use cases.
Other highlights included a development platform for autonomous guided vehicles (AGVs) to digitalize smart mobility and robotic applications in harsh environments such as industrial machinery and agriculture. The rugged platform provides a precise positioning solution by integrating an RTK-enabled GNSS unit with accelerometer, gyroscope and magnetometer in one rugged industrial device that is powered by a congatec Computer-on-Module. Designed for challenging conditions and automotive voltage ranges up to 36V, the Intel Atom processor-based platform comes with a wide operating temperature range of -40 to 85°C and IP65/67 protection. For connectivity with vehicle communication networks, it offers extension options for real-time Ethernet (TSN), RS232, RS485 and CAN. Further edge connectivity options include Wi-Fi and Bluetooth as well as LTE/5G. Ambient pressure, humidity and temperature sensors round off the feature set.