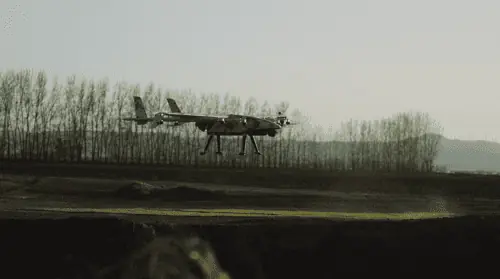 Sierra Nevada Corporation (SNC) is addressing the US Army's need for Future Tactical Unmanned Aircraft Systems (FTUAS) with its Voly-T, a rapidly deployable, runway-independent, reconnaissance, surveillance and target acquisition UAV.
The Army has selected SNC for Option 1 of its FTUAS Increment 2 program with the potential for additional contract award options of up to 21 months.
Vertical Take Off and Landing (VTOL) UAVs can provide several advantages over conventional fixed-wing UAVs, such as runway independence and the capability for point takeoff and landing with minimal space and in austere environments. Hybrid VTOLs, like SNC's Voly-T, also provide safety advantages, including redundant lift motors and avionics with the ability to land after engine or other catastrophic failures, offering increased maneuverability over fixed-wing UAVs.
SNC's VTOL solution has a compact design that makes it highly maneuverable in challenging terrains and contested areas. Designed for tactical resupply missions, it offers reliable intelligence in locations where commanders are reluctant to deploy manned aerial platforms. The Voly-T's turnkey ISR system also provides commanders with a dedicated, rapidly-taskable UAV to see, track and understand critical elements of the battlespace and support.
Highlighting its dedication to truly open architecture systems, SNC is incorporating its engineering design, integration and manufacturing expertise to achieve Modular Open Systems Approach (MOSA) compliance. The Voly-T is built for endurance and delivers the redundancy and durability required to complete the mission. Its open architecture, multi-INT capability makes it easily scalable to any mission. It is capable of handling heavy payloads with the ability to carry up to 50 pounds of cargo, including an ISR or sensor payload.
"At SNC, we are dedicated to providing the military with a future unmanned system that meets its requirements for payload, range and endurance," said Tim Owings executive vice president of SNC's Mission Solutions and Technologies (MST) business area. "The Voly-T supports the increased demand for immediate situational awareness on the battlefield by allowing the warfighter to see and identify the threat before the threat sees them."
"As an aerospace leader and prime integrator with a 60-year heritage, we're using our expertise to fulfill the increasing need for transportable UAS that are safe and easily configurable at a rapid pace," said Owings. "SNC designed the Voly-T series with the flexibility needed to meet the diverse requirements of any mission."
Find suppliers and manufacturers of Hybrid VTOL Fixed-Wing unmanned aircraft>>