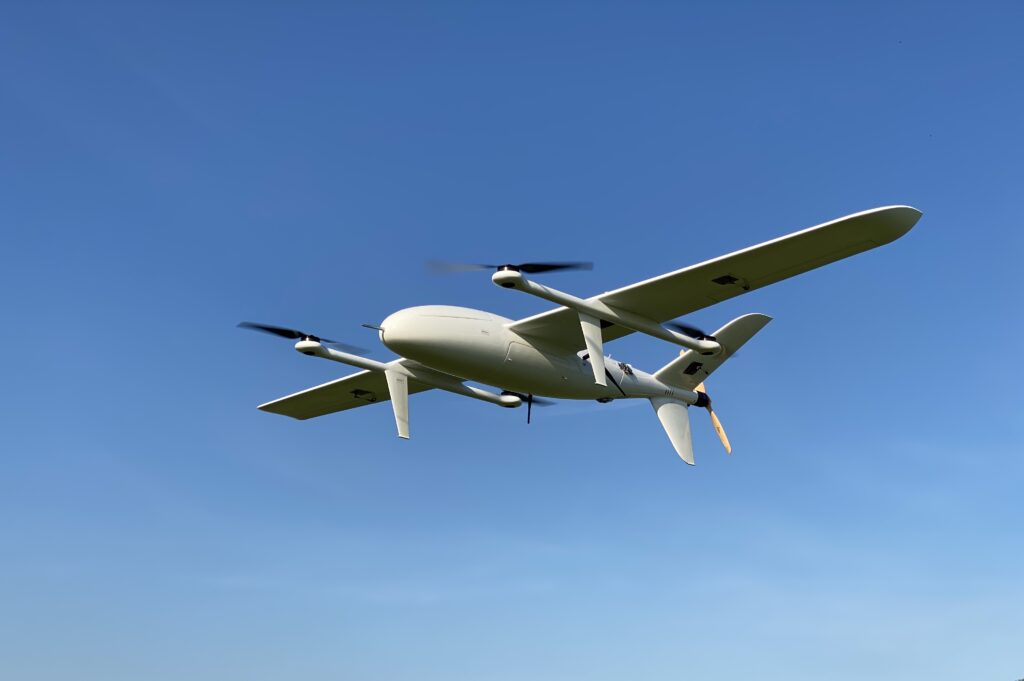 Sky-Drones has launched SkyLane, a new VTOL UAS (unmanned aerial system) platform that has been designed from the ground up for long-endurance and BVLOS (beyond visual line of sight) operations. With a large payload capacity and significant operational range, the aircraft can be equipped with a wide variety of sensors and payloads and is ideal for inspection, surveillance, and mapping, as well as cargo delivery.
SkyLane is powered by Sky-Drones' state-of-the-art AIRLink unit, incorporating a powerful AI mission computer, drone autopilot, and 5G connectivity. AIRLink enables real-time telemetry and streaming of video feeds, and enables custom software to be deployed. The onboard AI software provides a range of cutting-edge capabilities including autonomy, detection and tracking, and image enhancement. AIRLink is a scalable solution, allowing multiple UAVs to be run simultaneously.
The UAS also comes with a comprehensive cloud-based software suite, allowing users to plan missions in 3D and add and adjust waypoints. All flight logs are stored in the cloud for easy access, and detailed analytics ensure continued optimal performance and early detection of any potential issues.
The electrically-powered SkyLane platform is available in 2500 and 3500 mm wingspan variants. SkyLane-250 features a payload capacity of 1.2 kg and range of up to 300 km, while SkyLane-350 can carry 7kg and fly for up to 500 km.
SkyLane is currently being deployed as part of a project in the Channel Islands that is aiming to establish a rapid drone transportation network between Guernsey and Jersey. The project is funded by UK Research and Innovation (Innovate UK).