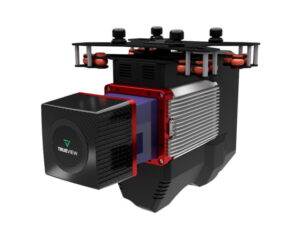 GeoCue has confirmed that it will be introducing its new TrueView 655/660 aerial mapping solution, along with the LP360 geospatial data processing software, at the Intergeo 2022 conference.
The TrueView 655/660 is GeoCue's third generation RIEGL integration, built around the miniVUX-3UAV and triple mapping cameras (right, left, nadir) for high-accuracy mapping with excellent vegetation penetration and wire detection in a lightweight payload package.
TrueView 3D Imaging Systems are known for their dual oblique cameras that help maximize mapping and coverage. The new TrueView 655/660 adds a third Nadir camera, allowing for imagery directly below the sensor to be captured.
Frank Darmayan, CEO of GeoCue explains the added coverage of the third camera: "With our newly released 655/660 the third RGB nadir camera provides a direct view of the ground below. This maximizes data collection for time flown, while improving the quality of photogrammetry and colorized point clouds our customers can provide."
LP360, an advanced geospatial data processing software, is also now available for European GIS professionals to post-process raw geospatial data into 3D colorized point clouds. LP360 has been updated and now offers two product lines to suit different LiDAR and photogrammetry data processing needs.
For drone users, LP360 Drone is the core product for drone geospatial data workflow. It can transform LiDAR and imagery data into survey-grade deliverables, with visualization, quality checks, classification, 3D editing, and analysis capabilities.
For larger dataset users, LP360 Geospatial can process captured LiDAR data or images from any aircraft or mobile sensor, and analyze and extract value for large LiDAR datasets.
Vivien Heriard Dubreuil, CEO of GeoCue parent company mdGroup, commented: "We are excited to bring LP360 to Europe. This software brings many additional features and resources for our users to produce the right deliverables without having to use any secondary processing software. We'll be demonstrating the workflow and geospatial tools available in LP360 at our Intergeo booth. We look forward to users of ALL survey equipment, including the DJI L1 to visit us with their system-specific questions and challenges. We are confident our software can help improve their deliverables."
Find suppliers & manufacturers of Geospatial Technology for Drones & Unmanned Systems >>