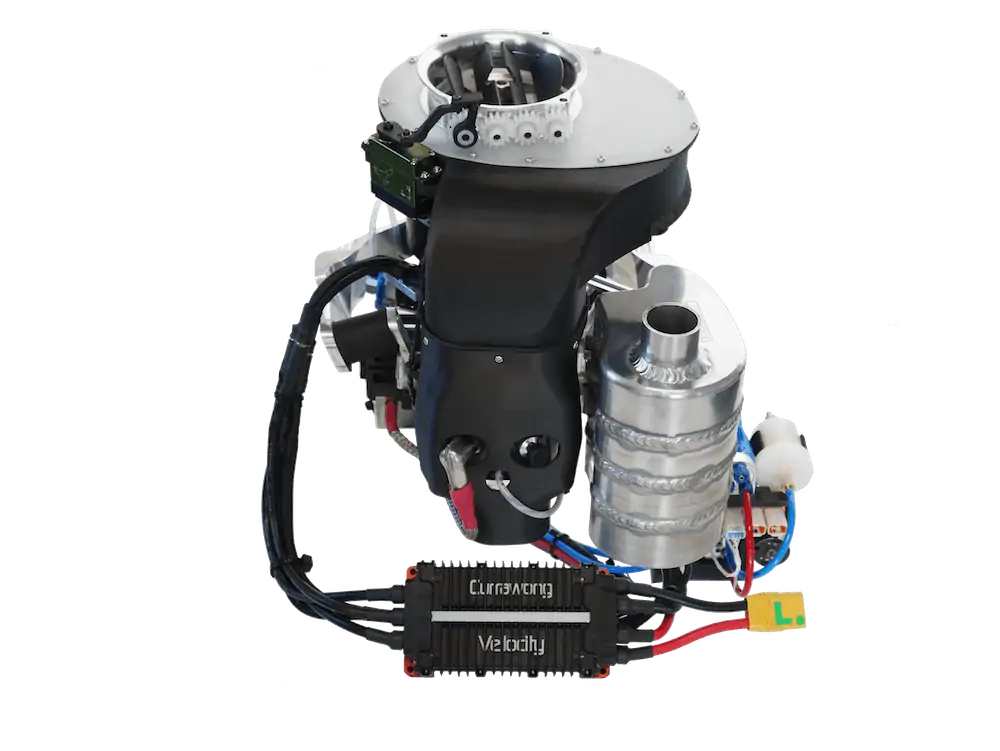 Currawong Engineering has released the Cortex Heavy Fuel Hybrid System, a two-stroke hybrid heavy fuel Unmanned Aerial Vehicle (UAV) engine system with industry-leading power density, an innovative new fuel and featuring Currawong's well-developed power electronics.
The hybrid architecture allows the engine to provide power to onboard electrical systems and charge batteries while providing propulsion power for flight. In the event of high-power requirements, the engine and the batteries work together to boost total power. This also decreases overall weight of the power train by reducing the number of batteries required to maintain flight durations. Power can also be directed from the battery system to the engine for self-starting power boost during flight and in-air engine restart.
In order to balance the flow of energy through the system, Currawong designed a Hybrid Transmuter based on the extremely power dense Velocity ESC range. The Hybrid Transmuter manages battery charging, changing load requirements of the UAV and determines whether to deliver power from the engine to the batteries or from the batteries to the engine. All this is handled automatically, making the Cortex system an ideal battery replacement.
Heavy fuel, more specifically, a stable heavy fuel is invariably sought to create a safer environment for the Currawong work force. The company has been able to show that UMAN-VP4F works well as a spark-ignited fuel in the Corvid-50 engine and burns with very clean combustion. Power output of the engine is comparable to that of petrol. UMAN-VP4F requires 8 to 10 bar of fuel pressure, ideal for the use of Currawong's specialist Triplex fuel pump.
Due to this innovative fuel, the Cortex system is designed for naval applications, with the hybrid nature of the engine extending the application across a varied range of vehicles.