SubCtech, a leading developer of ocean monitoring systems and subsea power technologies, has partnered with Unmanned Systems Technology ("UST") to demonstrate their expertise in this field. The 'Gold' profile highlights how the company's state-of-the-art solutions are ideal for equipping USV (unmanned surface vessels), ROV (remotely operated vehicles) and AUV (autonomous underwater vehicles) operating in challenging marine and maritime environments.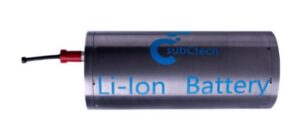 SubCtech's lightweight standard rechargeable Li-ion batteries are encased in titanium pressure housings for operation down to 6,000m. All deep sea rated batteries can be customized on demand to adjust the capacity, current, voltage, size and housing. High-performance subsea Li-Ion rechargeable batteries are also available, designed for deployments of up to 25 years and featuring optional redundant design with at least 50% capacity at all times.
Smart batteries for AUV and ROV are assembled from SmartPowerBlocks (SPB), each with its own protection and monitoring system. An optional CIM (Customer Interface Module) allows batteries to be interconnected with other components such as embedded chargers, power distribution units (PDU), and additional batteries.
SubCtech can also build subsea battery solutions for a wide range of needs and specifications, including custom form factors and housings, with outputs of up to 400V and 25 kW.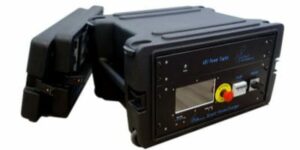 SubCtech's family of PowerCharger solutions for subsea and vehicle batteries features integrated battery management systems for enhanced safety and fast charging.
With the ability to charge one battery, multiple battery channels or multiple battery modules, PowerChargers provide simple one-button charging and discharging as well as a 7″ colour touchscreen for detailed system information.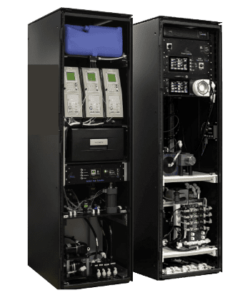 The OceanPack RACK is an autonomous marine monitoring system with a classic FerryBox design in a 19″ rack format. It can be installed in a wide variety of vessels, including research USV and environmental monitoring platforms. Almost any oceanographic sensor can be integrated into the system, including pCO2, SST, SSS and algae sensors, as well as other devices such as nutrient analyzers, water samplers, weather stations and GPS receivers.
Up to 30 serial devices can be connected simultaneously, and this can be expanded via an optional RS485 bus. Data is recorded on SD cards and can be retrieved via USB.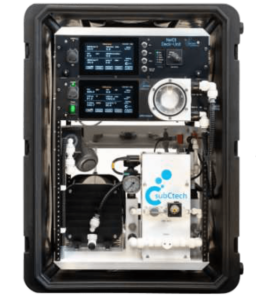 The OceanPack CUBE is a compact ocean monitoring system with a standard 19″ form factor, designed for scientific and environmental observation vessels. It features an internal sea-water pump, allowing it to be installed above or below the waterline.
The integrated 7″ touchscreen allows user-friendly control of the system. Up to 8 sensors or other serial devices can be connected, and data is recorded on SD cards and retrieved via USB.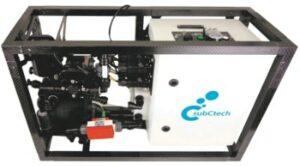 The OceanPack RACE is a mobile and robust water monitoring system that has been specially optimized for racing vessels, with a compact footprint and low power draw. With a lightweight carbon frame and a removable display and control panel, it includes a pCO2 analyzer and a thermosalinograph as standard.
Data can be transmitted in real-time via the vessel's on-board system, or with an optional satellite or RF transmitter. pCO2 data can be optionally referenced with standard gases, allowing qualified data to be recorded in the SOCAT database.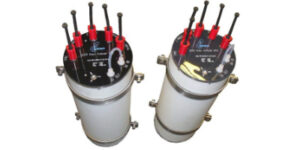 The OceanPack BUOY is a compact pCO2 analyzer designed to provide precise measurements in shallow water. Easy to setup and maintain, the unit can be installed on even very small marine monitoring platforms and can be left unattended for several months.
The system can be equipped with a data logger, allowing other sensors such as CTD, dissolved oxygen, pH, gas and nutrient analyzers to be installed. The raw, calibrated and processed data is saved and transmitted in real-time.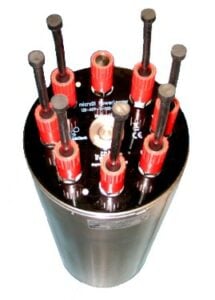 The Subsea NetDI Logger is a versatile data logger with an optional Li-Ion battery and titanium housing options that can withstand operation down to 6000m, allowing the unit to be installed in deep-sea AUV and ROV. With a low power consumption and a configurable output rate, the Subsea NetDI Logger is ideal for long underwater deployments.
The unit provides four sensor inputs and one host data output, and an optional expansion bus allows up to 30 serial devices to be connected. SD cards up to 32GB can be used to store data, allowing years' worth of high-resolution measurements to be recorded.
SubCtech can create all-in-one solutions for AUV and ROV that combine the NetDI data logger with a wide variety of different sensors, collecting real-time data for applications such as scientific research, environmental monitoring and offshore oil and gas.
Data can be transferred to ROV control centres via the vehicle tether, and the OceanView DataServer can be used for further processing, real-time display and alarm setting.
To find out more about SubCtech and their monitoring systems and subsea power technologies for USVs and UUVs, please visit their profile page: https://www.unmannedsystemstechnology.com/company/subctech/