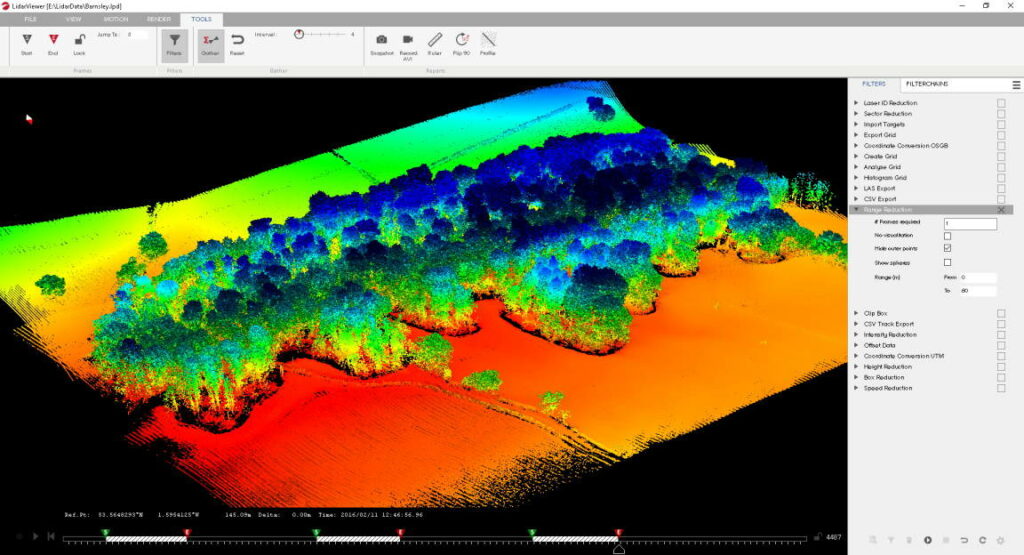 Routescene has unveiled a number of upgrades to its portfolio of hardware and software solutions for UAV (unmanned aerial vehicle)-based LiDAR scanning. The Routescene UAV LiDAR system is now available in a number of options, each developed to suit different applications. All system configurations are based on Routescene's LidarPod design, which can now be integrated with a variety of LiDAR and GNSS/INS sensors.
The LidarPod is lighter in weight, enabling longer flight times and allowing greater volumes of data to be collected. The result is more efficient surveys and increased productivity. The new options allow users to select a suitable solution for specific applications, taking into consideration factors such as the required accuracy, resolution and flying height.
Routescene's mapping systems are available as a full turnkey solution or as a modular package. The turnkey solution is ideal for new users, and contains all the tools needed to collect precise survey data, quality control the data in real-time, cleanse, process and analyse the georeferenced point cloud, and create detailed high resolution outputs. The modular package is designed for users who already own UAV LiDAR equipment, and Routescene will recommend the most suitable package for each customer's needs.
LiDAR data is slow to process and inherently difficult to analyse, and this is compounded by the fact that most GIS and CAD software packages cannot cope with the vast volumes of LiDAR data collected nor do they offer the specialist tools needed to clean LiDAR data. Routescene's solution to this critical problem is LidarViewer Pro, which has been upgraded with a number of additions and improvements.
The augmented software application, developed with increased stability, enables users to process and display greater volumes of data. Processes have been automated, allowing faster data processing times and thus reducing the time required to achieve meaningful outputs. An improved workflow, upgraded toolkit and new features enable users to quickly and efficiently clean, reduce, analyse, visualise and export spatial data. Colourised point clouds make the crucial visualisation easier.
Gert Riemersma, Routescene's CTO and founder, commented: "We are proud of the sizable advancements we have achieved across our product range, the changes are significant individually and collectively. We have many years of experience working with LiDAR and processing huge datasets which, along with feedback from our customers, has been applied to these latest developments. We aim to be the go-to experts for LiDAR data processing."