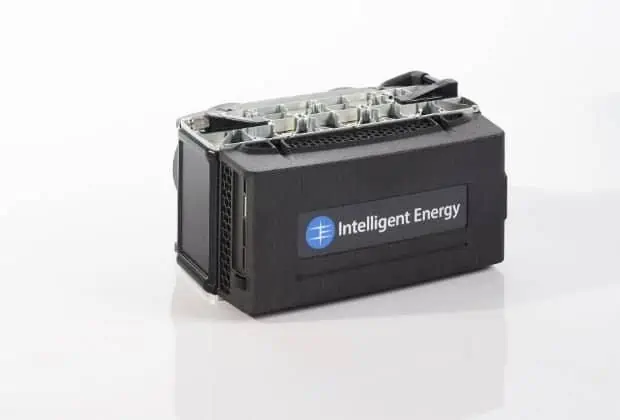 Intelligent Energy has confirmed that it will be participating in the first phase of a project funded by the UK Ministry of Defence's (MoD) Defence and Security Accelerator (DASA) that will scale drone fuel cells for MoD operational capability within three years.
Phase one of the project will involve looking at the next-generation product development of Intelligent Energy's IE-Soar 800W module, which is currently available to commercial UAV operators who need higher-endurance solutions for their missions. The next-generation version will be ruggedized for military environments. This first phase will also look at sourcing suitable expeditionary hydrogen refuelling stations for onsite hydrogen generation and refilling in remote locations, thus eliminating any requirement for fuel logistics.
NavyX, the innovation arm of the Royal Navy, will be managing this project with funding from the Royal Navy, the Army, StratComm, the Royal Air Force and the MoD's Defence Innovation Fund. The first phase of the project will run for eight months under the DASA contract. Trials of the IE-Soar 800W integrated into military products are expected to run next year, subject to funding being available for phase two of the project. Final MoD operational deployment is expected in 2023.
Jonathan Douglas-Smith, Aerospace Specialist at Intelligent Energy, commented: "Our IE-Soar modules are to be the focus of the development work. The MoD currently do not use PEM fuel cells in their operations. This project enables us to work with the UK MoD to develop a next generation lightweight PEM fuel cell product which satisfies defence requirements."
"The project will also investigate suitable hydrogen refilling stations for refuelling in situ, which is a critical requirement set by the UK MoD and the key to start exploiting the capability of the technology. The product focus is on our IE-Soar modules for UAVs but we expect there to be cross over with our other product ranges, including the IE-Lift modules which are a zero emission portable power solution."