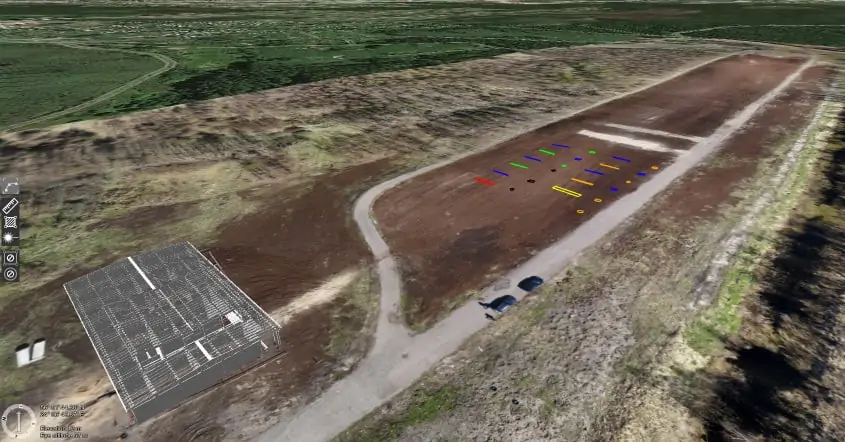 SPH Engineering has officially opened its new in-house drone flight test area, specifically designed for testing a range of types of UAV (unmanned-aerial vehicle)-mounted geophysical sensor. The area includes a 450 x 70 meter range with multiple targets of different materials and sizes buried in a variety of soil types.
SPH Engineering's test range is designed for manufacturers, surveyors and scientific teams to test equipment and undertake experiments. The four distinct seasons in Latvia provide the opportunity to test new technologies in a wide range of conditions – dry soil in summer, wet to extremely muddy in spring/autumn, and frozen in winter.
The design of the new test area took into account a broad range of real-world applications for geological sensors. The range includes 23 permanently installed targets, such as pipes and barrels, buried in natural soil with layers from sand to clay. The coordinates of each target are known with centimetre-level precision to ensure the highest possible accuracy when interpreting data acquired by the geophysical sensors. The diagonal orientation of buried pipes makes it possible to test responses at different depths and distances from the sensors.
Alexey Dobrovolskiy, CTO at SPH Engineering, commented: "We integrated the first sensor with a drone back in 2017. It was a GPR. The solution has been widely used, mainly for industrial and archaeological surveys, as well as for fresh water bathymetry. The decision to create an innovative test range was in response to the unexpected increase in requests for various UAV integrations from potential customers and sensor producers during the pandemic in 2020. Within a year, we successfully integrated two magnetometers, an echo sounder, a new methane detector and a metal detector with a drone."
Find developers of Geospatial Analysis Software for Drones >>