ElevonX, a leading provider of professional hybrid fixed-wing vertical take-off and landing (VTOL) UAVs (unmanned aerial vehicles) and equipment, has partnered with Unmanned Systems Technology ("UST") to demonstrate their expertise in this field. The 'Silver' profile highlights how their versatile fixed-wing drone platforms can provide superior capabilities for a wide range of applications.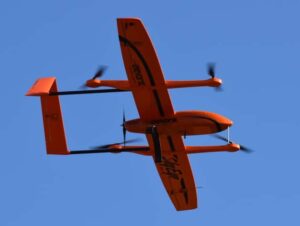 The SkyEye Sierra VTOL is a multipurpose vertical take-off and landing fixed-wing UAV that can be operated from only a very small footprint. The versatile, quiet drone platform features fully electric power as standard, and can be optionally upgraded to a petrol engine.
Capable of carrying up to 3kg of payload, the long-endurance VTOL UAV can stay in the air for up to 3 hours when electrically powered or up to 5 hours with a petrol engine, with an operational range of up to 320 km.
The system has been designed with motors that feature dust- and waterproofing for reliable operation in harsh environments, as well as a special pesticide-resistant covering for precision agriculture applications. It features a variety of safety systems and redundancies to provide the safest possible operation.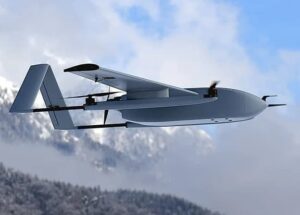 Tango is a fixed-wing VTOL UAV that can be equipped with fully electric power or a hybrid gasoline-electric propulsion system. With a payload capacity of 5kg and a flight endurance of up to 6 hours, the versatile platform is ideal for long-range tactical, military and surveillance applications, as well as search and rescue and scientific research.
The platform can be adapted to land on water, giving operators greater flexibility when conducting maritime or water-based missions.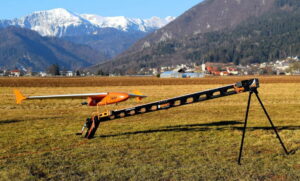 The ElevonX Scorpion is an elastic-powered UAV launcher that can be transported and set up by a single operator. Designed from the ground up with safety, durability and ease of use in mind, the catapult provides redundant safety features and can undertake hundreds of launches with only minimal maintenance. All elastic is enclosed within the launcher tube to eliminate risk to operator or equipment in case of band failure.
The system has been constructed from industrial-grade CNC-machined aluminium and stainless-steel components, with a marine-grade pulley system as well as powder coating for increased protection. The carriage and foldable arms have been designed as standard to support the ElevonX SkyEye modular UAV system, but the system can be modified to support other unmanned aircraft, even providing a custom-machined adapter to connect the UAV to the carriage.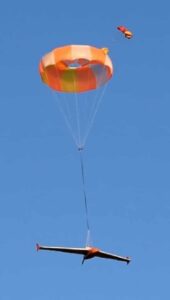 The Guardian family of parachute systems has been specially designed both for UAV recovery and as a safety system that can be deployed under extreme flight conditions such as stalling, diving and inverted flight.
Hand-sewn from high-grade parachute materials, the parachutes feature a toroidal design that offers the best compromise between packed volume and parachute drag coefficient, providing a safe and low-impact landing for your drones and onboard payloads. The system has been thoroughly tested on the ElevonX SkyEye WE 5.0 UAV prototype.
To find out more about ElevonX and their fixed-wing VTOL UAVs, please visit their profile page:
https://www.unmannedsystemstechnology.com/company/elevonx/