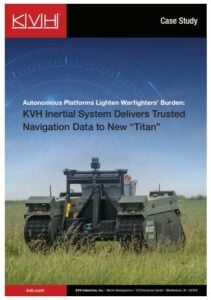 KVH has released a case study outlining how its GEO-FOG 3D Dual Inertial Navigation System (INS) has been used to enable autonomous navigation capabilities for QinetiQ's Titan UGV (unmanned ground vehicle). Titan is a multi-mission, reconfigurable platform that provides support for dismounted infantry operations, undertaking tasks such as sentry patrol and carrying heavy equipment and supplies.
Download the full case study from KVH's website
The case study covers:
The challenge of determining accurate, repeatable position, heading, and attitude for a UGV
The stringent specifications required by QinetiQ, including sub-1 degree heading and pitch and roll accuracy
How KVH's GEO-FOG 3D Dual INS solved Titan's navigation challenges
The ability to determine position, heading, and attitude accurately and repeatedly in all environments is crucial for autonomous platforms and can be a life-saving capability for warfighting applications. To find out more, download the full case study from KVH's website.