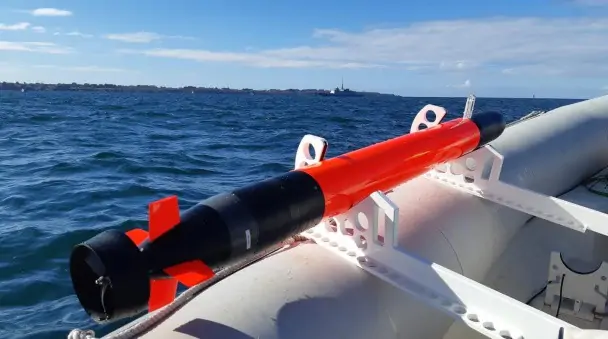 RTSYS has delivered two of its new SEMA-MKII target UUVs (unmanned underwater vehicles) to the French Navy, under a contract with the DGA (French Directorate General of Armaments). This latest delivery brings the Navy's complement of units to six, with a further two expected to be delivered in the near future.
The new SEMA MK-II underwater target drones are designed to train naval crews in Anti-Submarine Warfare (ASW) by offering the acoustic signature simulation of a submarine. The targets respond to the latest-generation LFA1 sonars and homing torpedo heads, allowing crews to train for operational scenarios with dynamic manoeuvres.
Weighing 33 kilograms and measuring 2.13 metres in length, the SEMA MK-II is more compact than its predecessor and provides enhanced acoustic and kinematic performance. The target is easy to deploy and recover from vessels of any size from RHIBs to frigates, and features a high-capacity rechargeable battery that allows it to navigate down to 300 meters depth for 10 hours at 4 knots or 1.5 hours at 15 knots. It can utilise GPS-aided repositioning for optimal surface localization at the end of a mission.
Other improvements implemented on the SEMA MK-II include safety of use, transport and onboard storage safety (including UN38.3 air transport compliance), data security, a new UHF surface localization module, and a new user-friendly and intuitive interface. SEMA MK-II's modular design allows it to be adapted to specific customer needs such as adapted buoyancy for freshwater training, MAD (magnetic anomaly detector) antennas, or additional batteries.