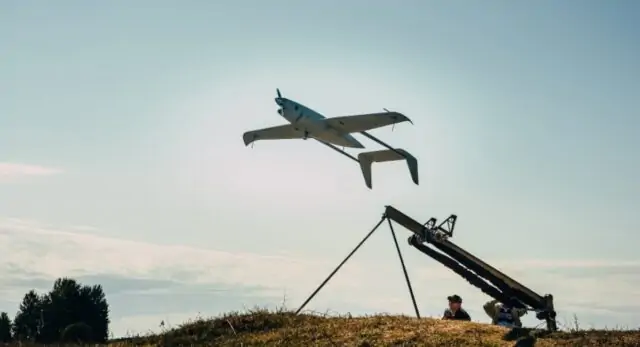 Skyeton has enhanced the ISR (Intelligence, surveillance and reconnaissance) capabilities of its Raybird-3 fixed-wing unmanned aerial system (UAS) with the incorporation of a new synthetic-aperture radar (SAR) system developed by Radionics.
Drones undertaking ISR missions with optical and infrared sensors can be hindered by clouds, fog and rain that obscure the view of the Earth's surface. SAR can be used to overcome these difficulties, but many such systems are bulky, expensive, or limited by export restrictions. Radionics' solution, which includes transmit and receive antennas, a transceiver module, a power amplifier, a digital signal processing unit and a power supply, is significantly smaller than many existing systems, with the transceiver module measuring just 196 х 305 х 107 mm and weighing 3 kg. With an aperture of 22cm, it features an azimuth pattern width of 5.7 degrees.
The SAR module can easily be integrated into the body of the aircraft, with minimal protrusion of only a few centimeters for the antennas. Radar data is downloaded after the drone lands and post=processing with special software. The data can be used for digital mapping in addition to ISR, and the system delivers a resolution of 0.3 to 0.5 metres regardless of altitude, making it possible to distinguish and identify two armoured vehicle-sized targets that are only a foot apart.
The new SAR system is an ideal complement to the Raybird-3 UAS, which has already been utilised by the Ukranian armed forces and can stay in the air for more than 24 hours.