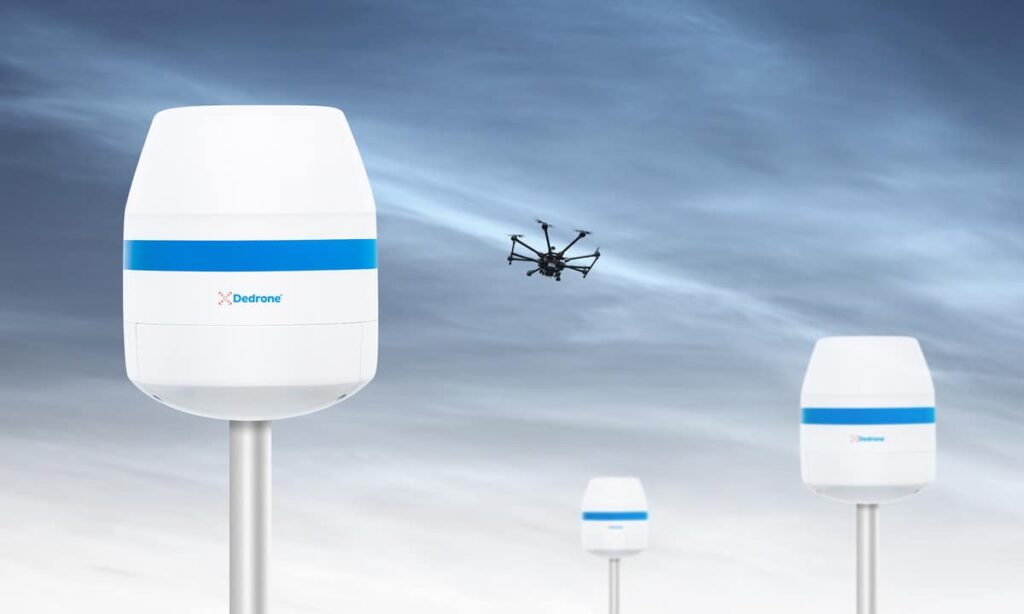 Dedrone has launched its next-generation drone detection solution, the RF-360, which detects, classifies and localizes unwanted or malicious drones via their radio signals. The system works over long distances and even in areas with high radio traffic such as urban regions and airports. The rapidly-installable system works in conjunction with Dedrone's DroneTracker software and automatically connects to the Internet.
The RF-360 features a detection range of up to 5 km, providing security teams with additional time to respond to drone threats and deploy countermeasures. The new sensor provides expanded coverage with fewer sensors installed across the protected zone, making it ideal for large-footprint areas such as airports, utilities, smart cities and corporate campuses.
The system is capable of filtering out irrelevant noise such as RF signals from cell towers, microwave antennas, radar systems and airport equipment. It can reliably and quickly detect specific drone communication signals and can be used on vehicles even when mounted next to high powered radar systems. ‍
The RF-360 includes integrated LTE and GPS, automatically connecting to the Dedrone Cloud and immediately assessing airspace activity. The new drone detection solution easily integrates into existing security command centers at both fixed and temporary sites and provides additional layers of airspace data. It requires only power with no integration into the local IT infrastructure necessary.
AD Devarakonda, CEO of Dedrone, commented: "Dedrone continues to innovate and meet the airspace security needs at the world's most critical operations, including utilities, correctional facilities, government and defense operations. The RF-360 provides our customers the data they need to protect their operations against unwanted drones. " In the past year, the COVID-19 shutdowns accelerated use-cases for drones, and with more drones in the skies, come more exposed vulnerabilities. With this new sensor, Dedrone customers will continue to maintain complete airspace domain and manage their drone risk."