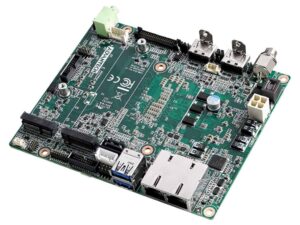 Advantech has released the AIMB-U233, a compact industrial-grade motherboard based around an 8th generation Intel Core i7-8665UE processor and designed for small form-factor robotics, drones and machine vision applications. Measuring 112 x 137 mm, the AIMB-U233 is equipped with a variety of I/O capabilities, including 4x COM, 4x USB, 2x HDMI, 2x GbE LAN, 16-bit GPIO, and 3x M.2 expansion slots.
The AIMB-U233 motherboard is equipped with M.2 M-key, M.2 E-key, and M.2 B-key compatibility, allowing it to support a variety of applications and improve computing performance. Combining the M.2 M-key interface with 4-lane NVMe PCIe can increase storage read/write speeds by up to 400% compared to a traditional SATA 3.0 SSD, and the system can automatically switch into SATA mode when a SATA SSD is installed.
The AIMB-U233's M.2 E-key and M.2 B-key connectors can be used to integrate Wi-Fi/BT and 4G LTE modules to provide wireless connectivity. Both expansion slots can also be used for storage via a 2-lane PCIE SSD (M.2 E-key) and/or SATA SSD (M.2 B-key), and the M.2 E-key connector supports the use of Advantech Movidius modules for enhanced graphics computing and machine vision.
The AIMB-U233 motherboard is well-protected against cyber-attacks and storage crashes, with TPM 2.0 to ensure data security with hardware-based encryption and authentication, and RAID support that enables data mirroring to mitigate the impact of hardware failures.
THe system also comes with pre-installed Advantech DeviceOn software for remote monitoring and management. The OTA BIOS system offers seamless updates and a backup recovery mechanism, greatly reducing the need for servicing by equipment technicians. To resolve minor computing glitches, the embedded USB controls can be used to discontinue power supply from the device. COM ports can be configured to RS-232/422/485 mode via the BIOS, which is KVM-accessible through Intel vProtm.
Find manufacturers of Embedded Computing Solutions for Unmanned Systems >>