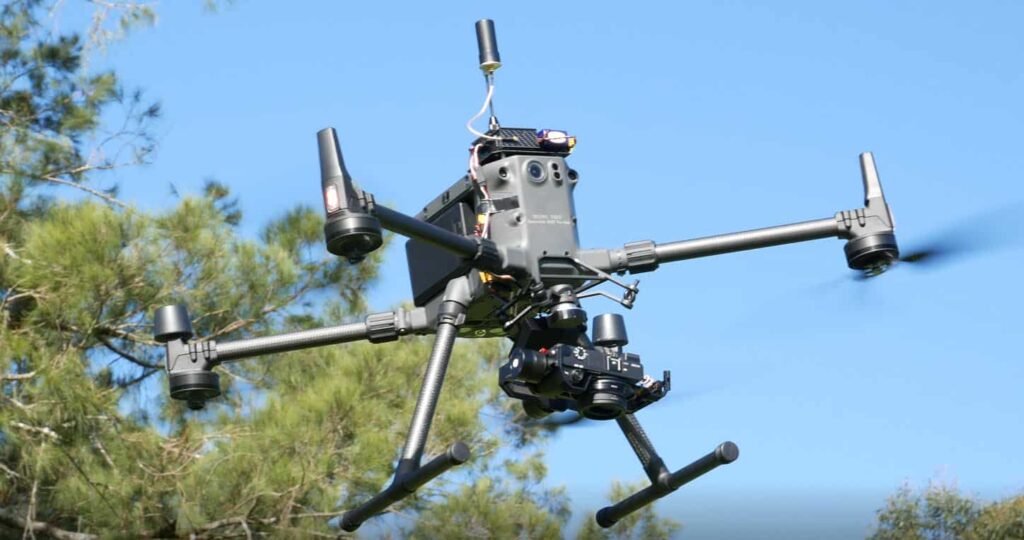 Klau Geomatics has released the new KlauPPK Sony Mapping Payload, a gimbal designed to allow interfacing of Sony cameras to the DJI M300 drone for mapping and surveying missions. The gimbal connects into the DJI drone bayonet mount, and the attached camera is independent of the drone, stabilized and tilted via remote control.
The M300 mapping mission planner provides full support for many custom imaging payloads, including Sony cameras, and will calculate the image footprint and plan the mission for particular GSD and overlap requirements. The camera trigger interval can then be entered into the KlauPPK hardware. Automatic Center of Gravity calibration for the combined gimbal and camera payload, which together weight less than 1kg, is performed by the drone.
The greater pixel count and larger sensors of the Sony camera, compared to the stock M300 camera, allow users to capture more data in each pixel and create more accurate 3D maps and models in post-processing. Flights can cover more ground with less photos, and with KlauPPK side overlaps can be reduced and solid aerial triangulation can still be achieved.
KlauPPK positioning technology is based on military-grade GNSS, with a PPP (Precise Point Positioning) option that provides very high accuracy without a base station (2-3cm XYZ in many regions) via the MakeItAccurate processing engine. The KlauPPK unit, with its own battery, antenna and integrated IMU, attaches to the top of the drone.
Recommended Sony cameras for use with the new KlauPPK Mapping Payload gimbal include the RX1r2 (fixed 35mm lens) or a6400 (with a choice of lenses). With fixed components, these cameras can be used from mission to mission without recalibration. The high-pixel count a7R can also be used, but due to moving components will require one or more GCPs (ground control points) to be used on each mission, in order to compensate for lens errors.