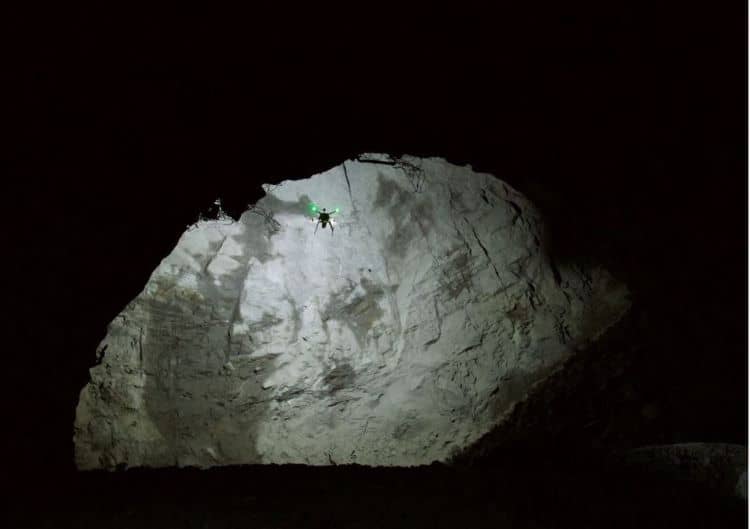 LORD Microstrain's inertial sensors have been incorporated into Emesent's Hovermap payload, which has been designed to enable drones to carry out autonomous mobile mapping in hazardous GPS-denied areas. The LORD inertial sensors provide the Hovermap system with precise orientation and velocity information in a small and lightweight package.
UAV-based mobile mapping systems typically consist of a GNSS receiver integrated with an Inertial Measurement Unit (IMU), and a LiDAR scanner capable of collecting around 1,000,000 measurements per second. This system produces georeferenced data points that can be used to create accurate digital terrain models of a wide variety of environments.
Hovermap can also use data from the LiDAR sensor to enable mapping and advanced autonomy functions even in GPS-denied environments. This is achieved using Simultaneous Localization and Mapping (SLAM) algorithms. The LORD inertial sensors aid the SLAM solution in real time, allowing the drone to navigate and map a space at the same time while avoiding collisions. This process lets mapping drones produce accurate renditions of their environment without the need for external services such as GPS.
Hovermap-enabled drones use the same data they collect to construct images of caves to locate themselves within the caves. By using SLAM for both navigation and location, both elements are improved – the drones are reliant on collecting accurate data to remain in the air, which means they can stay in the air for longer, and ultimately collect more data to construct more accurate images of the cave systems.
The drones are a significant upgrade to the conventional cavity monitoring systems (CMS) typically used to map underground areas. CMS solutions involve placing a LiDAR scanner at the end of a boom, which is then inserted into cavities. While this enables operators to scan areas inaccessible to human workers, the technology is limited by physical constraints such as the length of boom and dimensions of the cave.
A drone fitted with Emesent's Hovermap payload removes the need for humans to enter unfamiliar and potentially dangerous underground areas to complete mapping work, thus increasing safety. The solution also fixes the problem of missing data that is common with CMS scans, due to the scanner only viewing the cavity from one position. Hovermap eliminates shadows as the drone flies around inside the cavity, scanning it from many locations.
Dr. Stefan Hrabar, CEO of Emesent, commented: "We have stringent requirements for a lightweight, robust and reliable sensor, and LORD Corporation inertial sensors have a proven track record in the autonomy space. After more than two years of testing in our prototypes, we were happy with their innovative solution and have built this into the commercial Hovermap payload."
"Autonomous drone flight in these challenging GPS-denied environments is no easy task, but is made possible through our advanced algorithms that use the LORD Corporation inertial sensor and LiDAR data in real-time. This technology is a game changer for mining and other industries, providing significant benefits in safety and productivity."