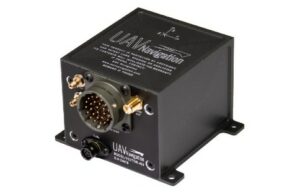 UAV Navigation has launched the VECTOR-400, a compact autopilot system developed specifically for aerial target drones. The autopilot uses an air data AHRS (attitude and heading reference system) and INS (inertial navigation system) to provide high-precision attitude information, allowing reliable navigation even in GNSS-denied environments (less than 30 m/min drift) and the ability to execute highly dynamic maneuvers.
Incorporating physical and logical redundancy, the VECTOR-400 is able to continue operating even in the case of individual sensor failure or when subject to jamming, maintaining accurate estimations of attitude and position. It features advanced algorithms for stall prevention and the ability to carry out an efficient gliding maneuver in case of engine failure.
Encased in a rugged enclosure, the VECTOR-400 is designed to meet MIL-STD 810 and MIL-STD 461 standards, with a military-grade connector for the harshest environments. Software and hardware have been developed in accordance with DO-178C, DO-254, as well as ASTM F3201-16 – currently the only certification available for UAS.
The VECTOR-400 benefits from the same stringent quality standards that all UAV Navigation products are developed to, including rigorous calibration processes and acceptance testing on every single unit before it ships, together with an individual Certificate Of Conformity.
Tobias Webster, Managing Director of UAV Navigation, commented: "We wanted to develop a solution specifically for manufacturers of aerial targets. This is why it was important for the autopilot to have the features required by this kind of UAV, such as sea-skimming (extremely low level flight) and the capability to navigate without a GNSS signal."
"The VECTOR-400 is not a product in isolation, rather it forms part of our global strategy. Some of its main features, such as the execution of completely automatic functions or its compact and easy to integrate software, which also allow it to be operated in case of datalink failure, are already used in other products in our autopilot family, such as the VECTOR-600."
"Not all autopilots are able to control highly dynamic platforms; even fewer are able to carry out advanced, high-speed maneuvers and low-level flight such as sea-skimming. That is why we are extremely pleased with this new product, which we believe meets a requirement in the market that had yet to be covered."