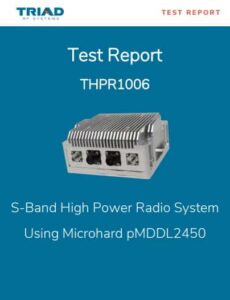 Triad RF Systems has released a test report comparing the performance of its THPR1006 turnkey high-power S-band radio system to that of a standalone Microhard pMDDL2450 PicoRadio. The pMDDL2450 is the core of the THPR1006, and is combined with additional high-power RF sub‐systems to increase the reliable link distance margin and make it suitable for applications such as long-distance UAV (unmanned aerial vehicle) ISR (intelligence, surveillance and reconnaissance) links.
Download the full test report from Triad's website here
Radios such as the pMDDL2450 PicoRadio can easily achieve acceptable throughput over short (<10 km) hops with the default 1-Watt output power-per-channel. However, for long distances or increased throughputs, the link's RF power may need to be increased. A common way of doing this is to connect a bi-directional amplifier (BDA) in line with each of the radio's output ports and its respective antenna.
However, simply connecting a BDA to an existing radio system can introduce additional variables and factors that may cause performance or stability issues. An integrated system such as the Triad THPR1006 takes away all of these factors, and is easy to integrate into existing ISR platforms.
The test report covers:
The test setup
An outline of how each device is tested, along with how these test results are compared to one another
The advantages of using a Triad High Power Radio
The test report shows that the THPR1006 can increase the link distance margin by roughly 450% over a stand-alone pMDDL2450. To find out more, download the full report from Triad's website.