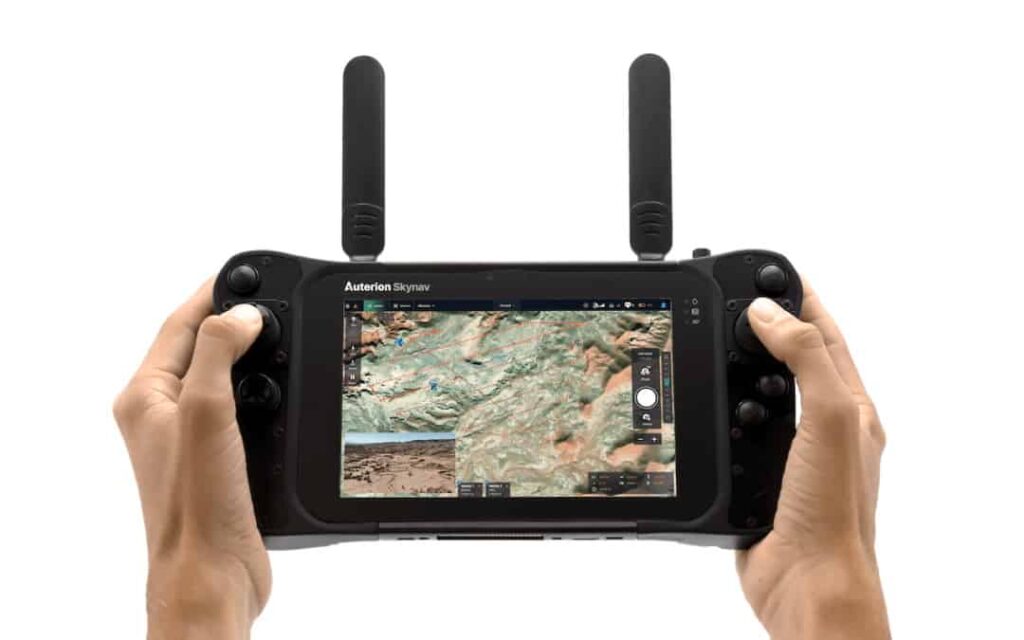 Auterion Government Solutions (GS) has released Skynav Gov, a scalable handheld ground controller designed to interface with all forms of fixed-wing, multirotor and VTOL unmanned aerial systems (UAS) used by U.S. government agencies, as well as unmanned ground vehicles (UGVs). The new controller is powered by Auterion's Mission Control app and controls all unmanned vehicles running Auterion Enterprise PX4 or communicating via MAVLink.
U.S. government agencies use drones and other unmanned vehicles for a variety of different missions, including intelligence, surveillance and reconnaissance (ISR), border control, and search and rescue, and is making small UAS available to troops on the battlefield. Auterion GS aims to provide a new approach to operating and upgrading their unmanned aircraft, and to streamlining control over expanding and diverse fleets of drones.
Skynav Gov simplifies the process of collecting drone data, including day and nighttime full-motion video, high resolution still photos, signals intelligence (SIGINT), as well as the metadata contained within these data streams. It provides intuitive access to a wide range of essential functions, including waypoint setting, surveying areas, scanning corridors, and more.
The new controller leverages a reliable open source software base using widely-adopted industry standards, and is not bound by the proprietary restrictions of other government vendors. It is also fully compliant with the 2020 National Defense Authorization Act, Section 848.
Other benefits of Skynav Gov for government customers include:
Scalable control: The ability to use a single controller for any Group 1 and Group 2 UAS communicating over MAVLink
Versatile connectivity: Skynav Gov supports three different radio transceivers (Microhard, Silvus, Persistent Systems) and has built-in LTE
Reduced cognitive overhead: Skynav Gov is designed primarily for operators rather than engineers, allowing users to see only the controls and data that are needed to safely operate drone and payload
Auterion GS has broad experience with the needs of the U.S. government for drone operations. The company recently entered into a $2 million project with the Defense Innovation Unit (DIU) to enhance its open source drone software. According to the federal technology news agency Nextgov, Auterion's PX4 platform "would standardize the operating system for different drone models, (and) could one day power the Army's entire fleet of small unmanned aircraft."
Auterion GS is currently beta-testing Skynav Gov with select customers, and will shortly be taking orders widely. For more details, visit http://www.auterion-gs.com/skynav.
Find GCS manufacturers for UAVs, drones, UAS, RPAS and UGVs >>