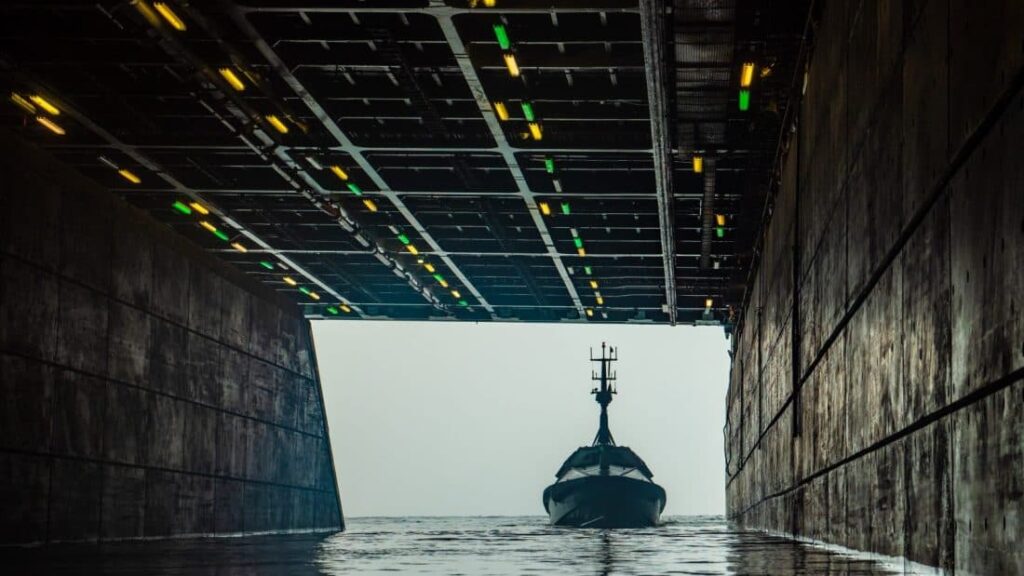 L3Harris has integrated the MAST-13 ASV (autonomous surface vehicle) into a United Kingdom Royal Navy warship, demonstrating manned-unmanned teaming. L3Harris operated the ASV on behalf of the Royal Navy's NavyX team and the Royal Marines 47 Commando as part of their Autonomous Advance Force (AAF) 2.5 trial in Norway.
The MAST-13, which was designed and built by L3Harris for Dstl (Defence Science and Technology Laboratory), is a 13-meter (41-foot) long high-speed unmanned testbed vessel intended for the Royal Navy to explore new methods of maintaining a technical advantage over potential adversaries. It was integrated into HMS Albion using the ASView control system, which allowed the unmanned vessel to be remotely controlled from a station on board the warship.
The successful integration meant that MAST-13 could operate at range from its operator and safely navigate, with full situational awareness via the on-board sensor package. The MAST-13 ASV utilises Domo Tactical Communications' technology for secure data communications.
At the beginning of the trial, MAST-13 was remotely piloted into HMS Albion's dock, thus demonstrating the ease of operating an ASV alongside a warship. The team then carried out 22 manned cycles of entering and retracting, before switching over to the remote station to complete the same task multiple times without an onboard crew. Using the Maritime Autonomous Platform Exploitation (MAPLE) integrated command and control system, MAST-13 also completed several other tasks in unmanned mode while sending feeds back to the remote station.
The AAF 2.5 trial formed part of the broader "Exercise Cold Response", in which British and Norwegian troops gathered to test their ability to work together in an extremely challenging and unforgiving environment where the temperature rarely rises above zero degrees Celcius. The exercise consisted of more than 15,000 soldiers from the U.S., U.K., the Netherlands, Germany, France, Belgium, Denmark and Sweden, as well as the Norwegian forces.
Watch a video of the MAST-13 ASV being operated during the Autonomous Advance Force trial below: