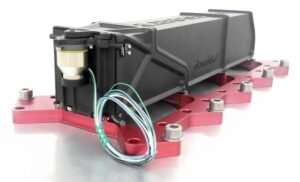 CRP Group's Windform XT 2.0 carbon composite material has been used to print a miniature satellite deployer for Alba Orbital, a manufacturer of PocketQube satellites. PocketQubes are designed for space research, and typically have dimensions of 5cm and weigh no more than 250 grams. They are often used as low-cost alternatives to launching a larger CubeSat into low Earth orbit.
Read the full case study detailing the use of Windform XT 2.0 for the satellite deployer here
Alba Orbital needed to build an updated version of their PocketQube satellite deployer, with the aim of AlbaPod v2 being to improve on its predecessor with lower weight, easier manufacturability and system access, and new safety features. The company turned to CRP Technology, who have considerable experience supplying to the space industry, for a solution. Most of CRP Group's Windform TOP-LINE composite materials are suitable for space applications and have passed outgassing tests at NASA and ESA.
CRP Group began with accurate analysis of the design's 3D and 2D files, deciding on a Selective Laser Sintering process and the high-performance Windform XT 2.0 carbon composite material to realise the design. Windform XT 2.0's toughness and strength made it ideal for this application, which needs to withstand space laugh conditions and extremely high vibration while containing several satellites, as well as containing any satellite that might break free internally. Windform XT 2.0 is a lightweight fibre-reinforced polyamide plastic that is very similar to nylon.
The final design for AlbaPod v2 was extremely lightweight at less than 500g (60% less than its predecessor) with the ability to hold up to 6 PocketQube satellites. Major components were redesigned in Windform XT 2.0, including the shell, the moving ejection mechanism and the door assembly. The combination of material and 3D-printing manufacturing technique allowed parts to be designed with thin sections and complex geometries that would not have been possible with traditional techniques.
To find out more about the use of carbon composite materials and 3D printing for space applications, download the full case study here.