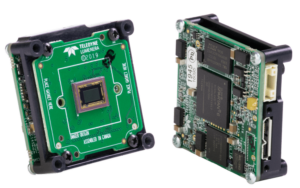 Teledyne Lumenera has released its new Lt Series of USB3 board-level cameras, based around Sony's rolling shutter Starvis CMOS sensors and global shutter Pregius CMOS sensors. The small-footprint, lightweight cameras range in resolution from 2 – 20 megapixels and are designed for embedded systems applications such as UAV (unmanned aerial vehicle) imaging and industrial inspection.
The board-level cameras provide greater flexibility and ease of design for embedded systems by eliminating extra camera weight and housing material, simplifying integration into existing product designs. The cameras feature side-mounted USB connectors, making them an ideal choice for compact OEM solutions, and are USB3 Vision compliant, with Windows and Linux SDKs available.
The Teledyne Lumenera Lt Series board-level cameras are engineered to deliver high dynamic range, high speed, with low read noise for a variety of applications. Pixel sizes of the new cameras range from 2 μm to 3.45 μm, and each unit also features back-illuminated sensors and fast frame rates.
Ghislain Beaupré, General Manager at Teledyne Lumenera, commented: "The compact design of the new Lt Series Board Level Cameras allows for easy integration into imaging systems with small form factors. This means the new board level cameras are ideal for integrating into portable or handheld imaging devices, and compact OEM imaging system designs with a minimal footprint."