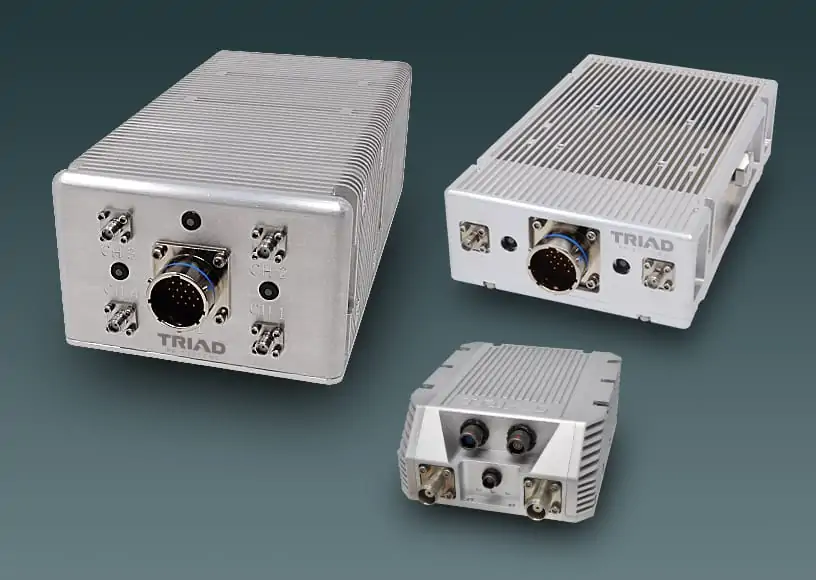 Triad RF Systems has launched a new line of amplified radios that are based around products from manufacturers such as Silvus Technologies, Domo Tactical Communications, Microhard Systems, and Doodle Labs and extend their ranges in order to address the command, control, and throughput needs of advanced unmanned systems. These new radio modules boost RF power and are ideal for UAVs (unmanned aerial vehicles), USVs (unmanned surface vehicles) and UGVs (unmanned ground vehicles) operating in harsh weather conditions and challenging environments.
The new turnkey radio solutions were developed by Triad in response to issues faced by customers bolting on a bi-directional amplifier (BDA) to a mobile ad hoc network (MANET) or multiple input multiple output (MIMO) wireless mesh radio. According to Triad, these in-house integrations frequently fail to achieve the size, weight, performance, and cost objectives (SWaP-C) required of a long distance radio link.
This common method for increasing a radio link's signal range involves connecting the BDA in line with the microwave radio's RF port and antenna. For MIMO radio applications, up to four individual BDAs may be required to accomplish the necessary power increase. Creating a dependable long-distance radio link in this way requires extensive expertise in the optimization of RF margins.
Unmanned system engineering teams that experience under-performing or marginal data link performance after assembling their own amplification systems typically face one or more of a wide variety of issues and challenges, including:
Overcoming free space path loss over distance
Ensuring the signal arrives at the receiver (RX) with the exact signal-to-noise (SNR) to meet the minimum signal quality required for dependable reception and demodulation
Generating a clean signal that rises above the electromagnetic interference (EMI) that routinely originates from either a co-located system in the vehicle, or from man-made RF noise present in the area of operation
Drift in gain, power, signal to noise ratio, and other variables over temperature and frequency
Co-channel RFI issues
Insufficient RF and/or DC bus filtering to mitigate EMI / RFI issues
Sub-optimal cables, interconnects
Antenna selection / positioning
Video encoder optimization and radio settings errors
Lack of maintenance and establishment of pre- and post- flight tests and checks to ensure that the links are always working at peak performance levels
Triad's fully integrated and optimized Amplified Radios are the result of extensive experience in custom development of the highest data-rate, longest range wireless links for the intelligence, surveillance, and reconnaissance (ISR) community. They address power drift issues by including advanced active power control and equalization circuitry, ensuring that both the RF output power and signal-to-noise ratio (SNR) delivered to the antenna remains ultra-stable in the presence of any fluctuations.