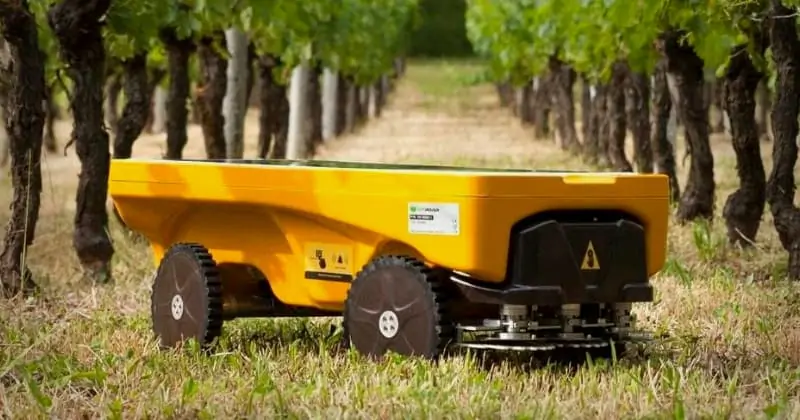 Trimble have released a case study outlining how the company's MB-Two dual-frequency GNSS receiver with RTK/PPP positioning engine has been used to provide centimetre-level positioning for the Vitirover robot mower. The autonomous robotic platform is designed to provide vegetation and grass control in large agricultural spaces such as vineyards, as well as large outdoor industrial areas such as solar farms.
Download the full case study from Trimble's website here
The areas in which Vitirover operates are typically filled with a high density of obstacles, and so automated mowing is a complex task that requires precision while attempting to complete the task as swiftly as possible. Many autonomous mowers are limited in range and flexibility due to being permanently connected to a power source, and the designers of Vitirover sought to overcome this via the use of solar panels and a high-precision GNSS solution.
The technical team selected the Trimble MB-Two receiver, which can acquire over-the-air satellite corrections for RTX through its embedded
L-band hardware, or get correction from a NTRIP Server for centimeter-level accuracy. The dual GNSS antennas ensure accurate heading measurements even in areas with magnetic charge, such as railways.
With the aid of a high-precision GNSS receiver, the robots are able to operate in a variety of patterns, including straight tracks, user-defined plot-to-plot scenarios, and methodic parallel lines.
To find out more, download the full case study from Trimble's website.