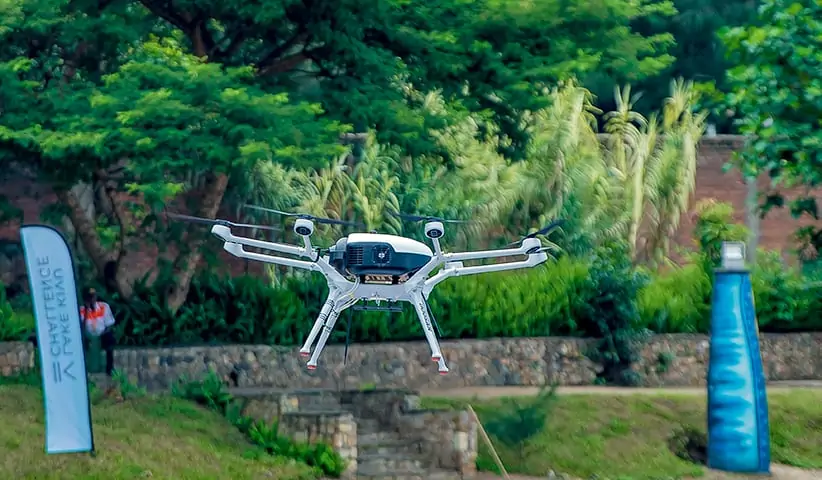 Doosan Mobility Innovation (DMI), a developer of hydrogen fuel cell technologies for unmanned aerial vehicles (UAVs), has announced that during the African Drone Forum (ADF) in Kigali, Rwanda, the company demonstrated key benefits of drone utilization in Africa and how it could improve the lives of its citizens. The ADF, organized by the World Bank and hosted by the Rwandan government, was designed to explore methods in which drone technology can help establish infrastructure in Africa.
The ADF focused on innovative drone solutions that would help solve mobility issues, as conventional transport infrastructure such as road and rail are prohibitively expensive in much of Africa, with only 34% of the population being within 2 km/1.2 miles of an all-weather road. Drones, particularly those powered by hydrogen fuel cells giving them a flight endurance of multiple hours, can deliver items to remote locations, helping to solve some of these mobility issues.
DMI demonstrated their DS30 long-endurance hydrogen fuel cell drone and DP30 powerpack, successfully completing 30 minutes of flight time with enough hydrogen left for over two hours of extended flight. Applications for this long-endurance flight technology include the supply of medicines and blood, disaster analysis and relief, communication capabilities, and more.
Currently, most drone blood delivery in Africa is supplied by fixed-wing drones that generally have a maximum payload of about 2 kg. DMI's hydrogen fuel cell drone has a maximum payload of 5 kg – making it possible to deliver twice as much blood per flight. DMI's solution also transports and delivers blood in a delivery box specially designed for temperature-sensitive medical supplies.
Doo Soon Lee, CEO of DMI, was a key speaker during the symposium and spoke regarding the benefits of long endurance flight for emergency delivery as well as other applications. He commented: "A hydrogen fuel cell drone used in blood delivery can travel more than 70km in a flight. We can help save as many as 5,000 lives a year with one hydrogen drone."
Dr. George Mulamula, a representative for World Bank, stated: "Doosan Mobility Innovation's product is green technology and it stays in the air for a longer time, enabling longer distances and more economic value."