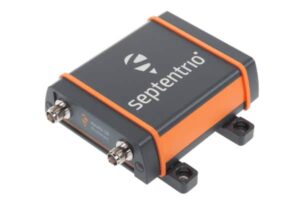 Septentrio, a developer of high-precision positioning solutions for drones and robotics, has announced the launch of AsteRx SB ProDirect, the company's new compact, robust GNSS receiver that provides accurate heading and pitch or heading and roll information in addition to high-reliability positioning.
AsteRx SB ProDirect is designed to be an "install-and-forget" solution that provides continuous positioning, heading and pitch, or heading and roll information immediately from power-up, allowing trajectory path optimization and fully informed navigation for robotic platforms and autonomous unmanned systems right from the start of the mission.
AsteRx SB ProDirect is a dual antenna receiver designed for quick and easy integration, and leverages Septentrio's new LOCK+ technology that ensures robust tracking and optimized positioning and heading performance under intense mechanical vibrations, shakes or shocks.
Chris Lowet, Product Manager at Septentrio, commented: "The AsteRx SB ProDirect brings the very essence of GNSS positioning and position independent heading, needed for robotics, machine control and similar applications. It comes in a simple no-frills, ruggedized, easy-to-install package so you can quickly get started and have reliable positioning and heading throughout your project."