VersaLogic Corporation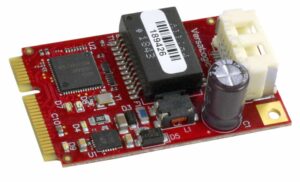 has announced the launch of its new E6 Mini PCIe Gigabit Ethernet expansion board, featuring optional POE+ support. The new board is designed to provide an easy way to add a Gigabit Ethernet port with POE+ to embedded computer systems, especially those in harsh environments such as UAVs (unmanned aerial vehicles) and other robotic platforms.
The single Mini PCIe card features magnetic isolation and POE+ injection circuitry on-board, with no need for mezzanine cards or additional cables or POE injection adaptors, and supporting peripheral devices drawing up to 30 W. It includes IEEE 1588/802.1AS Precision Time Protocol support for precise time-synchronization between network nodes. The MPEe-E6E variant without POE+ provides Gigabit Ethernet with IEEE 1588 support in the same rugged, compact format.
The E6 has been fully tested for reliable operation over the full industrial temperature range (-40° to +85°C). Latching connectors and MIL-STD-202H shock and vibration testing ensure performance under highly demanding conditions. The module's extremely small form factor makes it ideal for size and weight optimized applications such as drones and robotics.
The E6 is customizable even in low OEM quantities, with options including conformal coating, revision locks, custom labeling, and customized testing and screening. It is designed for high reliability and longterm availability (10+ year typical production lifecycle).
Bob Buxton, VersaLogic Product Manager, commented: "With this small self-contained Mini PCIe-card, customers can now power and communicate with a wider range of peripherals. For example, POE+ enables powering of not just cameras but even wireless access points."
Find suppliers of Embedded Computing boards for unmanned applications >>